Jimmy Garoppolo is the Las Vegas Raiders' new $72.5 million man. The organization moved on from their longtime quarterback Derek Carr and is now handing the reins of the offense to the nine-year pro. 
When the Raiders picked up Garoppolo in free agency, experts and fans questioned the move. Some even chuckled at the price tag Las Vegas's front office was willing to bring him in on. 
Despite nine seasons in the NFL, owning a 40-17 starting record and leading the San Francisco 49ers to a Super Bowl during the 2019 season, Garoppolo still has his skeptics. Yet, it does not faze him for one main reason. 
CLICK HERE FOR MORE SPORTS COVERAGE ON FOXNEWS.COM
"Honestly, it's kinda one of those things like if you don't got anyone hating on you, you're not doing anything," he told Fox News Digital while discussing his experience at Nellis Air Force Base with the United States Air Force Thunderbirds thanks to USAA and Team Whistle. 
He continued, "It's a blessing in disguise having those people hate on you, and it pushes you a little bit more. When no one's talking about you, that's when you should be worried. When things aren't going great, and you start getting pushed to the wayside."
It is very hard to have success in the NFL, especially as a quarterback. The immense pressure of delivering success quickly, as all franchises and their fans want, can break the spirit of many who try their hand under center in the league.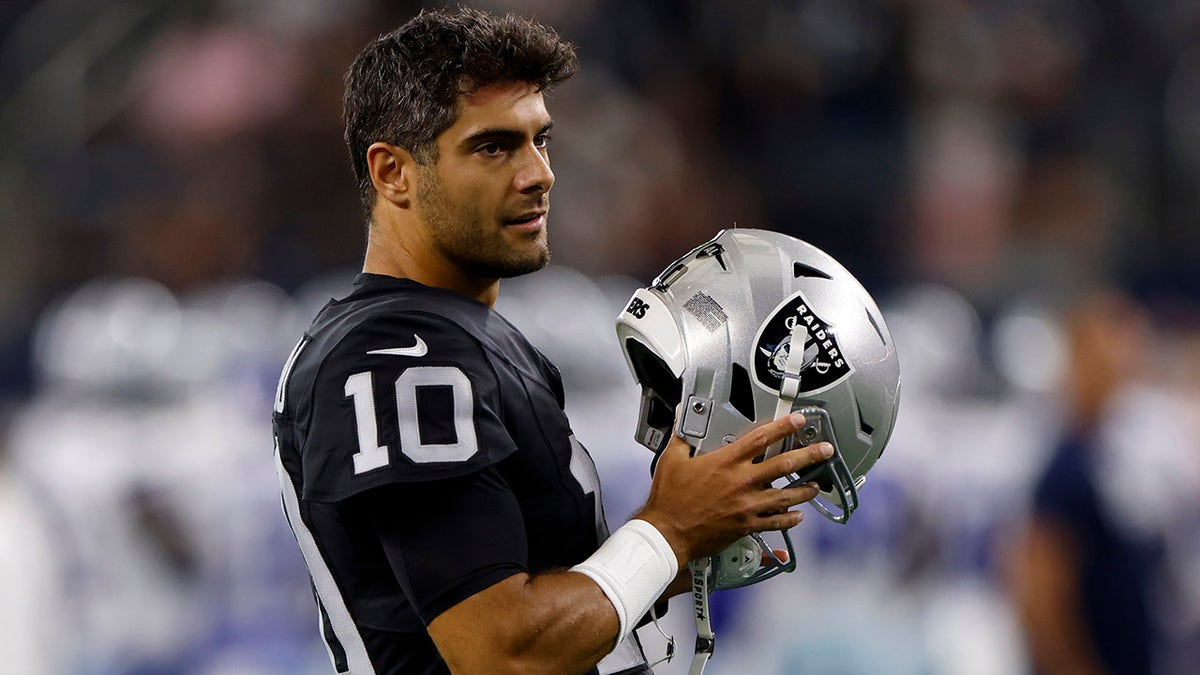 KYLE SHANAHAN SAYS HE'S 'REALLY NOT CONCERNED ABOUT' JIMMY GAROPPOLO CALLING 49ERS QB SITUATION 'WEIRD'
When Garoppolo finally had the chance to be a starter, he won his first seven games – two with the New England Patriots and five with the 49ers. He would suffer a season-ending injury in 2018, when he began the season for San Fran as their starter, but when he returned in 2019, he went 13-3 and anchored an offense through the Minnesota Vikings and Green Bay Packers to reach the Super Bowl against the Kansas City Chiefs. 
While the 49ers fell to Patrick Mahomes and company, Garoppolo proved he can play with the best of the best. 
However, even with all the success, the Eastern Illinois product knows proving yourself every year comes with the territory. 
"What you've done is the past is cool, some cool highlights to look on and look at when you're old and gray," he explained. "But each year, you've got to prove yourself, especially in the NFL. It's such a competitive league. There's only 32 guys that do what we do as a quarterback. There's always someone trying to take your spot. 
"So I think nothing's going to be given to you. That's one thing I love about this building: Nothing's going to be given to you. You gotta go out there and earn it every day."
Garoppolo said that it has been great transitioning from San Francisco to Las Vegas, where he teams up with Raiders head coach Josh McDaniels, his old offensive coordinator from the Patriots. He also has an elite wide receiver that makes his life on the field a bit easier in Davante Adams.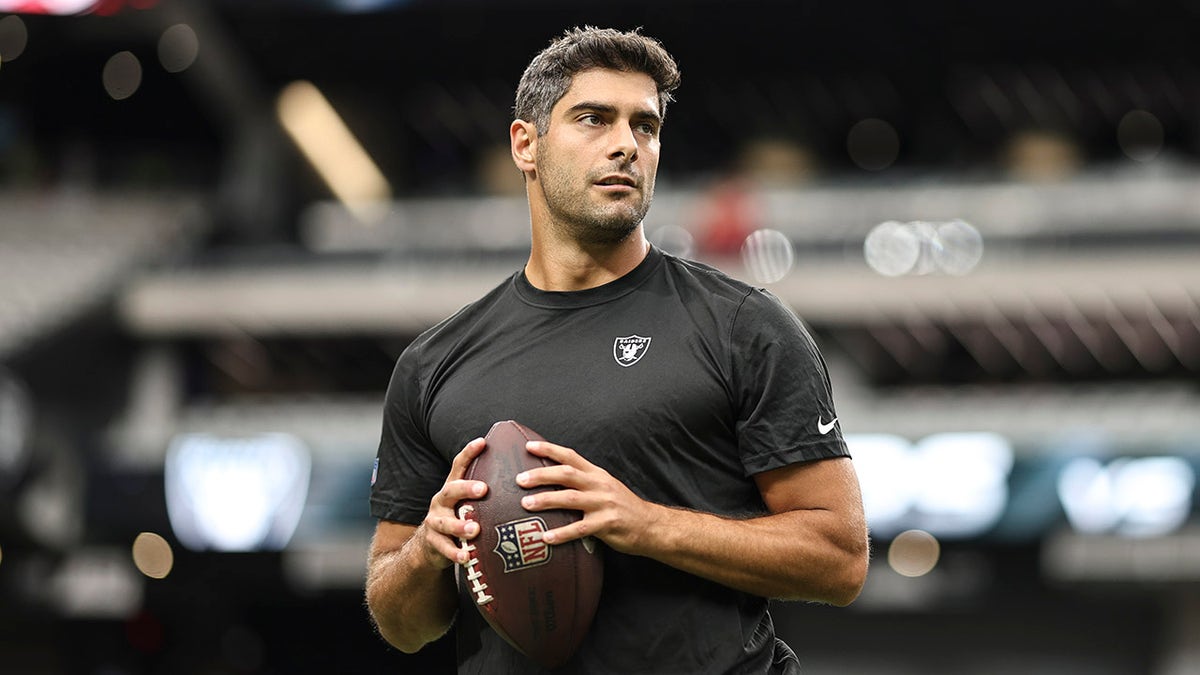 "Tae's been incredible," Garoppolo said of his expected top target. "I've never seen something like that on the field before. His athleticism, his knowledge of the game, how he talked about it, it's really cool. …Each day we've grown and grown. It's a relationship that I'm really enjoying."
Josh Jacobs returning to the fold has also been a sigh of relief for the Raiders, as he was holding out due to his franchise tag not leading to a long-term extension, but the organization signed him to a one-year pact worth up to $12 million, and he reported to the facility quickly. 
Garoppolo met Jacobs for the first time when he returned to Vegas, saying his "high energy" personality was an immediate lift in the locker room. 
CLICK HERE TO GET THE FOX NEWS APP
The Raiders may believe they have the right pieces to compete in the league this season, but the AFC West is one of the hardest divisions – if not the hardest – in the NFL. The Chiefs, Los Angeles Chargers and a revamped Denver Broncos team under Sean Payton will be stiff competition for the Raiders, as they transition into their Garoppolo Era. 
However, this is nothing new for their quarterback, who was initially viewed as Tom Brady's backup before being dealt away from New England. He has faced the challenge of learning a new offense, and being doubted the second he took over an offense. 
So, as the haters line up with Week 1 against the Broncos around the corner on Sept. 10, Garoppolo is ready to once again prove who he is. 
"I wouldn't have it any other way," he said.