Josh Allen rebounded from a four-turnover, season-opening dud by throwing three touchdown passes and leading the Buffalo Bills to a 38-10 rout of the Las Vegas Raiders on Sunday.
Linebackers Matt Milano and Terrel Bernard each intercepted Jimmy Garoppolo, and the Bills eased the lingering frustrations following a 22-16 overtime loss at the New York Jets on Monday and a week full of off-field distractions.
Coach Sean McDermott had to address his leadership group after team owner Terry Pegula was accused of making racially insensitive comments in a lawsuit filed by a former NFL Media reporter. Pegula denied the allegations.
CLICK HERE FOR MORE SPORTS COVERAGE ON FOXNEWS.COM
And then on Wednesday, a Bills media reporter was overheard on an open microphone questioning receiver Stefon Diggs' character. Diggs went to social media a day later by calling the comments "hurtful" and "insulting."
It was an especially uplifting performance from Allen, who enjoyed his 21st three-or-more touchdown outing after spending much of last week facing questions about his sloppy performance, which he fully acknowledged cost the Bills a victory.
Allen completed his first 13 attempts for 94 yards, and finished 31 of 37 for 274 yards passing and no turnovers. His 13 consecutive completions to start a game set an individual record and matched his best run at any point of an outing. He improved to 13-4 in games following a loss, and 23-4 in games he doesn't commit a turnover.
Dawson Knox scored the go-ahead touchdown on a 2-yard catch to put Buffalo up 14-7 three minutes into the second quarter, and Khalil Shakir padded the lead with an 11-yard touchdown reception in the final seconds of the first half.
Allen sealed the victory by opening the second half overseeing a 15-play, 75-yard drive that ate up 9:01 of the clock. He went 7 of 8 for 37 yards, and capped the drive by throwing across his body to hit Gabe Davis in double-coverage in the end zone to convert fourth-and-goal from the 2.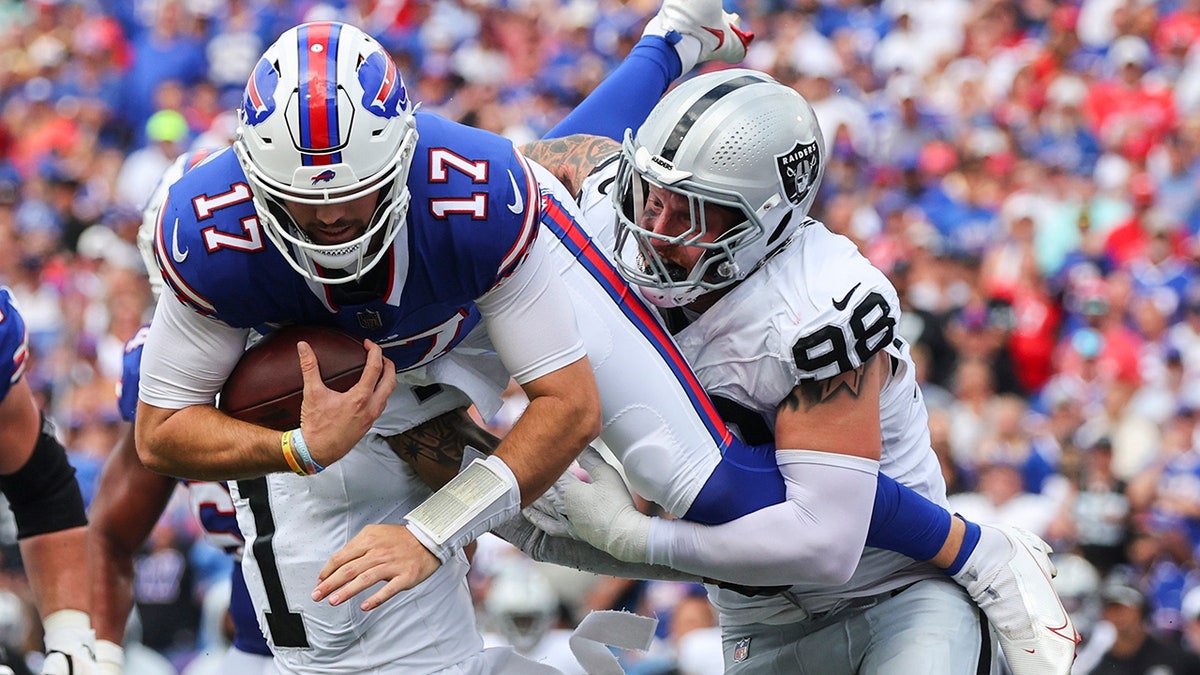 SEAHAWKS' PETE CARROLL EXPLODES ON REF AFTER PENALTY CALLED ON GENO SMITH
Whatever chance the Raiders had to get back into the game ended four plays from scrimmage later, when Milano jumped in front of Josh Jacobs to intercept Garoppolo's pass at midfield.
The Raiders dropped to 1-1, following a season-opening 17-16 win at Denver, and blew an opportunity to open a season with back-to-back road wins for the first time since 1982.
Garoppolo finished 16 of 24 for 185 yards, with a 16-yard touchdown pass to Davante Adams. The touchdown was the 88th of Adams' career to move him ahead of Larry Fitzgerald for the fifth-most by a player in his first 10 NFL seasons. The Raiders tweeted after the game that Adams was being evaluated for a concussion.
The Raiders running attack continues to be grounded with Jacobs finishing with minus-2 yards on nine carries. Though Jacobs had five catches for 51 yards, the NFL's leading rusher last season now has combined for 46 yards rushing through two games.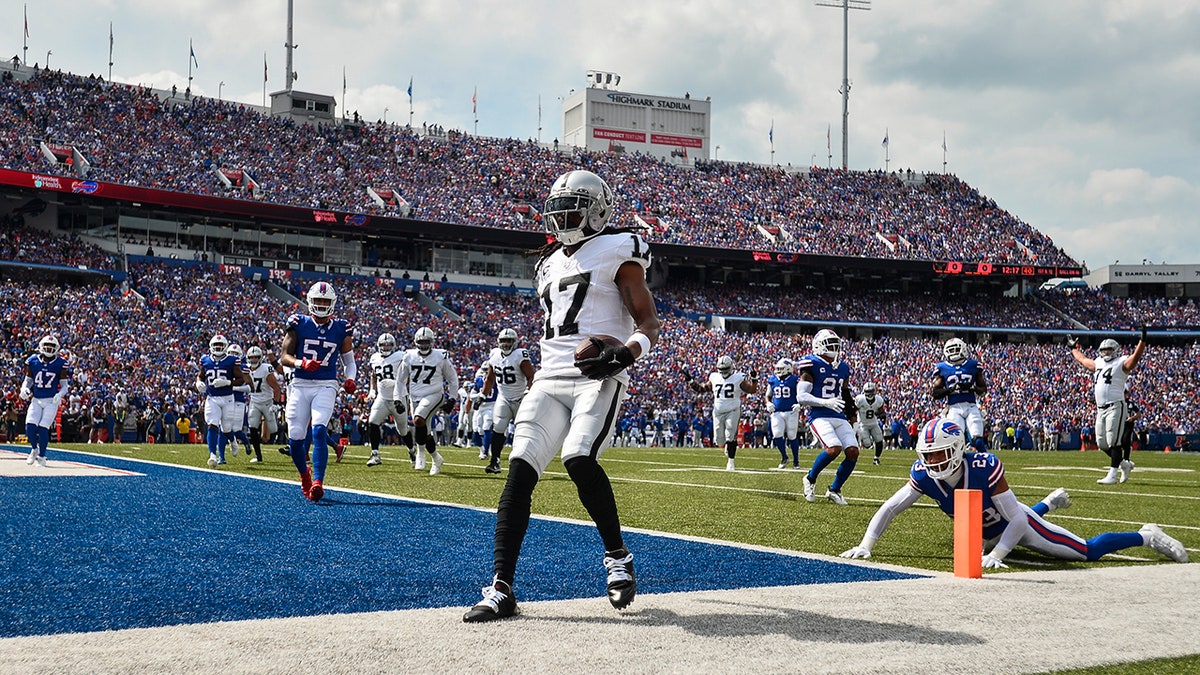 BACKUPS ON THE RUN
The Bills backup running back tandem of Latavius Murray and Damien Harris — both offseason free agent additions — each scored a touchdown rushing. Murray scored on a 4-yard carry, and Harris from 1 yard out to cap the scoring.
CARLSON CLOSING IN
The Raiders' Daniel Carlson became the NFL's fourth kicker to convert 145 field-goal attempts through their first 80 career games by hitting a 47-yarder midway through the second quarter. Carlson finished with 4 points to increase his franchise career total to 597.
INJURIES/INACTIVES
Raiders: WR Jakobi Meyers (concussion protocol) did not play after the offseason free agent addition led the team with nine catches for 81 yards and two touchdowns in a season-opening win at Denver. … DE Chandler Jones missed his second straight game over a dispute with management.
Bills: S Damar Hamlin was a healthy inactive for the second straight week. The third-year player has not appeared in an NFL regular season game since going into cardiac arrest and needing to be resuscitated on the field at Cincinnati on Jan. 2. … S Micah Hyde injured his hamstring, and DE Leonard Floyd hurt his ankle during the game.
CLICK HERE TO GET THE FOX NEWS APP
NEXT WEEK
Raiders: Host Pittsburgh Steelers in home opener on Sunday night.
Bills: Travel to face the Washington Commanders on Sunday.