It was the Miami Dolphins' pass game that excelled in Week 1, but running back Raheem Mostert shined to help defeat the New England Patriots, 24-17, on Sunday night. 
The Dolphins improved to 2-0, while the Patriots fell to 0-2 on the season. 
For most of the night, Miami was in control of the game, using its offensive firepower and aggressive defense to have a one-touchdown lead late in the game. However, after a Jason Sanders missed 55-yard field goal, the Patriots had a chance to tie it up with great field position. 
CLICK HERE FOR MORE SPORTS COVERAGE ON FOXNEWS.COM
Mac Jones couldn't get the job done last week against the Philadelphia Eagles when the Patriots were down five with a chance for a game-winning drive. Jones had a chance at redemption here, but he wasn't able to execute yet again. 
Miami's defense gave Jones and the Patriots' offense fits all night long, and it continued in the two-minute drill as Bradley Chubb sacked Jones for the fourth team sack on the night. 
On fourth down, needing to get four yards to keep the drive going, Jones found his tight end (and former Dolphin) Mike Gesicki on a crossing route. But Gesicki was clearly going to be short, so he thought on the fly by throwing the ball backward to offensive lineman Cole Strange to give the Patriots a chance to maybe break the line to gain.
DOLPHINS STAR WARNS JETS WILL STILL ACHIEVE 'BIG THINGS' UNDER ZACH WILSON, DESPITE AARON RODGERS' INJURY
Strange spun and fell to the turf, and it was initially called a first down. However, video replay showed that Strange was too short, and the Dolphins celebrated knowing the game was over. 
APP USERS VIEW THE MOMENT HERE.
Miami's defense was making the correct plays all game long, and it started when New England was forced to punt on its first drive after going just 21 yards on eight plays. 
That was followed by a fumble by Pop Douglas, who didn't see Chubb flying in behind him on a catch-and-run and throwing a hammer fist to get the ball out. 
The Dolphins' offense would capitalize on that opportunity, going 11 plays and 73 yards with a Raheem Mostert touchdown from eight yards out moving Miami's lead to 10-0.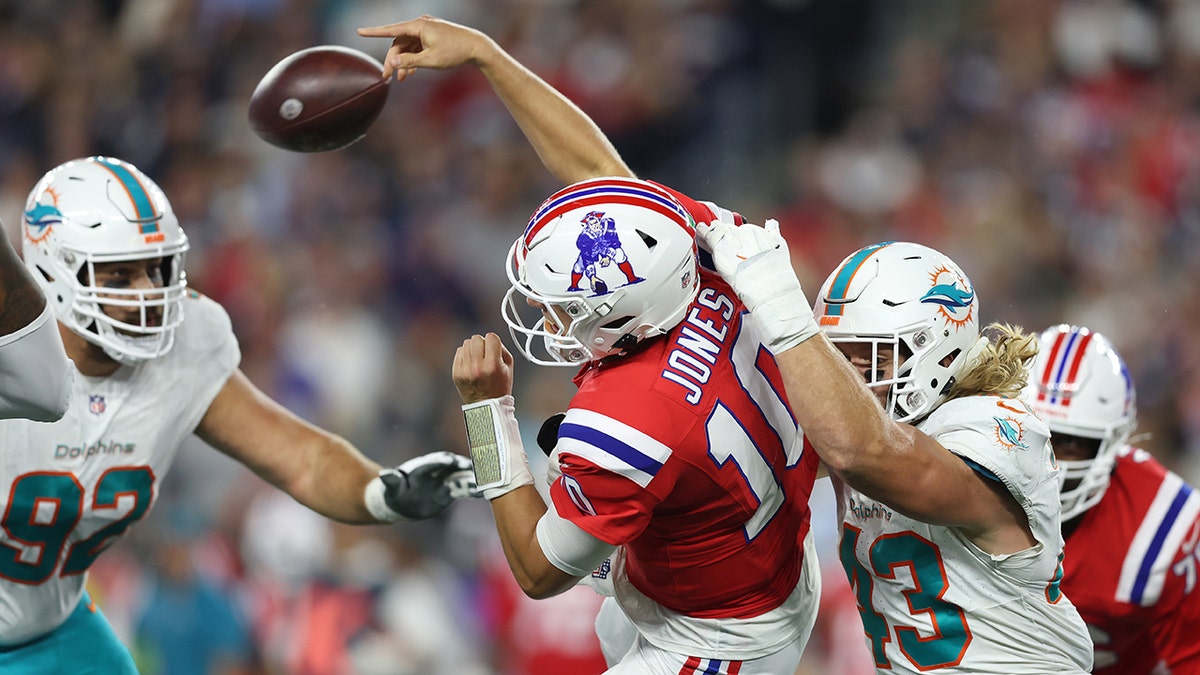 While last week was a big passing week for the Dolphins, it was the run game in New England that led the way. Mostert finished with a game-high 121 yards on 18 carries with two touchdowns. 
After punting on its next drive, the Patriots were finally able to get on the board with a 49-yard field for Chad Ryland, who tallies his first field goal in the NFL. 
GIANTS OVERCOME 21-POINT DEFICIT TO STUN CARDINALS, SNAP SPECIFIC LOSING STREAK
But just before the end of the first half, the Dolphins found the end zone once more, and it was Tua Tagovailoa finding Tyreek Hill – his favorite target in Week 1 – for a two-yard score
APP USERS VIEW THE PLAY HERE.
New England was finally able to find the end zone in the fourth quarter after forcing a three-and-out on Miami. It was Jones finding Hunter Henry, who scored twice in Week 1, for a six-yard score to pull within a touchdown. 
That's when momentum started to go the Patriots' way, and rookie cornerback Christian Gonzalez brought even more to his sideline when he intercepted Tagovailoa, who was looking for a deep ball to Hill. It was Gonzalez's first interception of his young career. 
However, Miami's defense got to Jones again on the ensuing drive. Andrew Van Ginkel, who wreaked havoc on the Patriots' offensive line all night, got a sack that pushed Jones back 10 yards deep in Patriots' territory.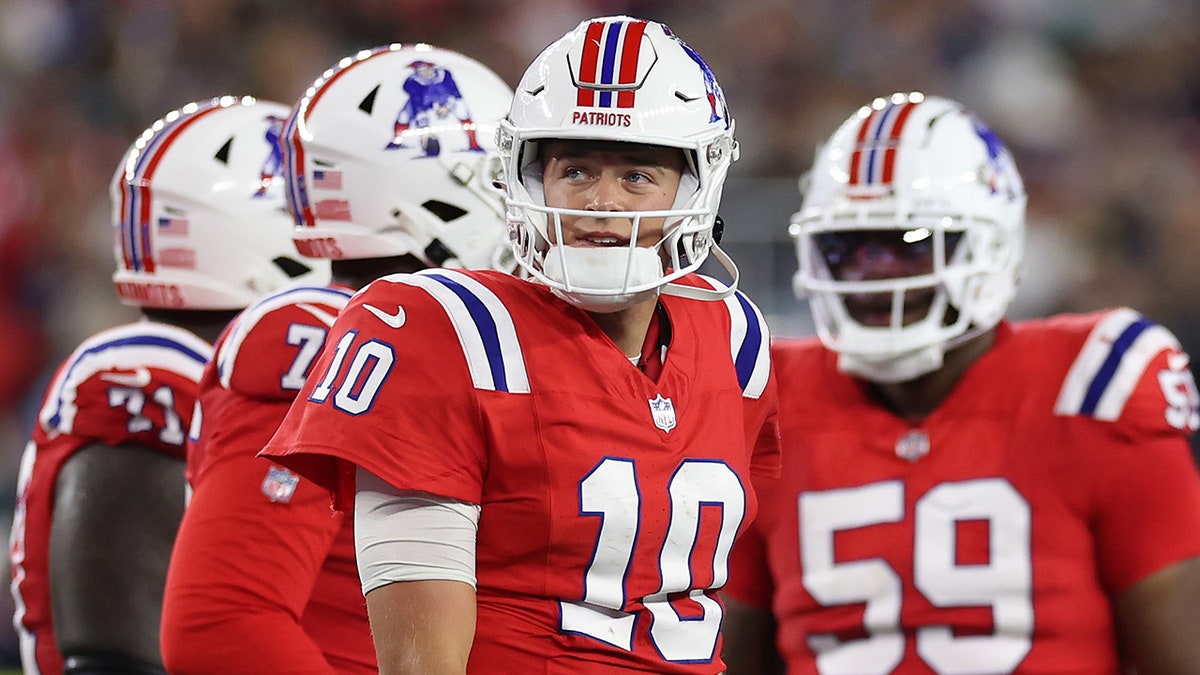 The Patriots were forced to punt, and the Dolphins wasted no time getting their two-touchdown lead back. Mostert found the end zone again, but this time, he wasn't even touched. 
Mostert found a perfect hole on an inside zone run and used his blazing speed to go 43 yards for the score to make it 24-10. 
Jones and the Patriots had to respond on the next drive as time was dwindling in the fourth quarter. New England dialed up the right plays, and Jones handled the Dolphins' pressure as he made the right throws, including a scrambling strike to Juju Smith-Schuster to set up a Rhamondre Stevenson two-yard touchdown run to make it 24-17. 
But the Patriots fell short yet again, and it's back to the drawing board. 
In the box score, Tagovailoa went 21 of 30 for 249 yards with a touchdown and interception, with Jaylen Waddle his leading receiver with 86 yards on four receptions. Hill finished with 40 yards on five catches. 
Jones went 31 for 42 with 231 yards, tallying one touchdown and one interception. The Patriots only had 88 rushing yards, with Stevenson leading the pack with 50 on 15 carries. 
The Patriots look ahead to Week 3 against another AFC East rival, the New York Jets, on the road.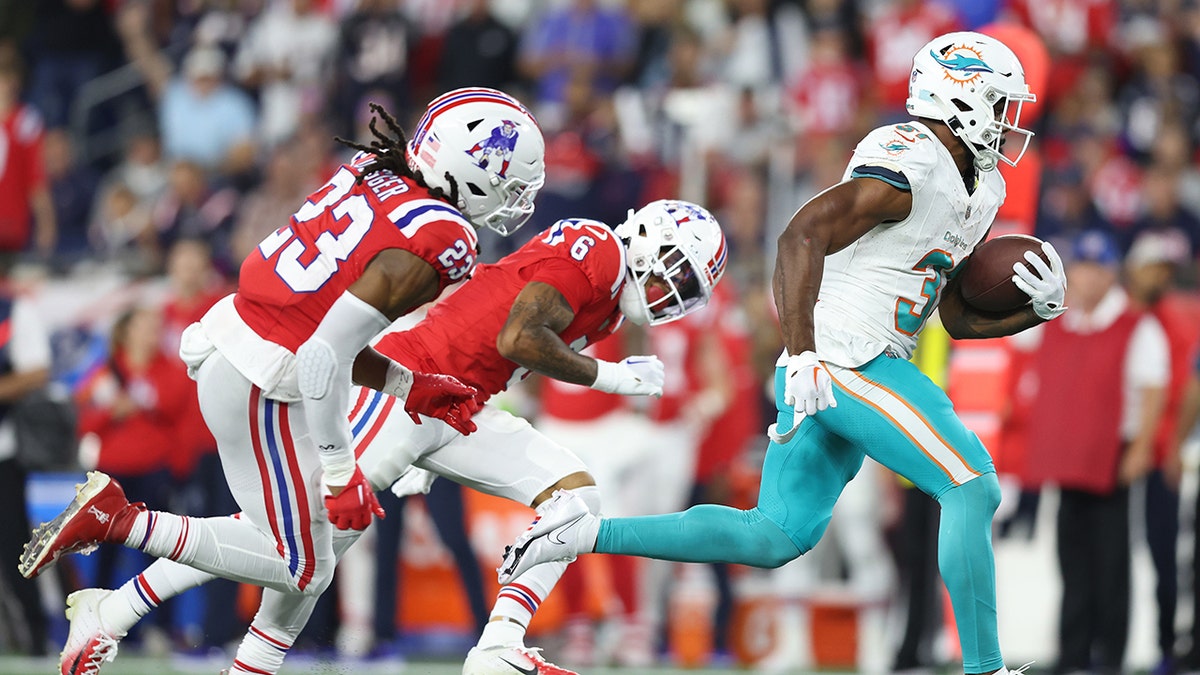 CLICK HERE TO GET THE FOX NEWS APP
Meanwhile, the Dolphins, getting off to the fast start head coach Mike McDaniel certainly loves, will return home to face the Denver Broncos.