It's been a year since Washington Commanders running back Brian Robinson Jr. went from standout rookie at training camp to wondering if he'd ever play football again after suffering two gunshot wounds during an attempted robbery in Washington, D.C. 
The Commanders posted a story based off interviews between Robinson and their content team in which the second-year pro reflected on that moment on Aug. 28, 2022 when he thought all was lost. 
The piece starts with Robinson saying he couldn't sleep that first night in the hospital, as his mind was racing. 
CLICK HERE FOR MORE SPORTS COVERAGE ON FOXNEWS.COM
"I couldn't help but feel disappointed, because I had worked so hard to get to this point in my life," Robinson said. "From playing high school football in Tuscaloosa, Alabama, to waiting my turn to show what I could do in college and getting the call from Coach Rivera, I had dreamt about playing in the NFL from the first time I was able to put that jersey on with my name on it. I realized that dreams are real if you put together the right habits and, you know, you have the right work ethic.
"Now, that dream was close to being done."
However, Robinson was well aware that football wasn't on anyone else's mind. His family, friends, the Commanders and every NFL fan wanted to make sure that he was OK. 
BRIAN ROBINSON'S SHOOTER PLEADS GUILTY TO CRIME, KILLING 15-YEAR-OLD IN SEPARATE INCIDENT
"I knew I was lucky to be alive," Robinson admitted. "We're talking about gunshots. People die from gunshots. One shot. Anywhere. It can be in the strangest place on your body, and you can die from it. So, to take two, there's no way I can think that I'm not blessed to make it out of there."
Once doctors revealed to Robinson that no structural damage was caused by his gunshot wounds, the Alabama product said he was relieved. He knew football was still in the cards, and he got to work. 
Robinson detailed having to hop up and down stairs with his mom's help during the process. He had been shot in the knee and hip after wrestling one of the boys who was trying to rob him. That boy was 16 years old, while the one who shot him was 15. 
Robinson's mother played a vital role in his recovery, because the running back admitted he is usually stubborn when it comes to asking for help.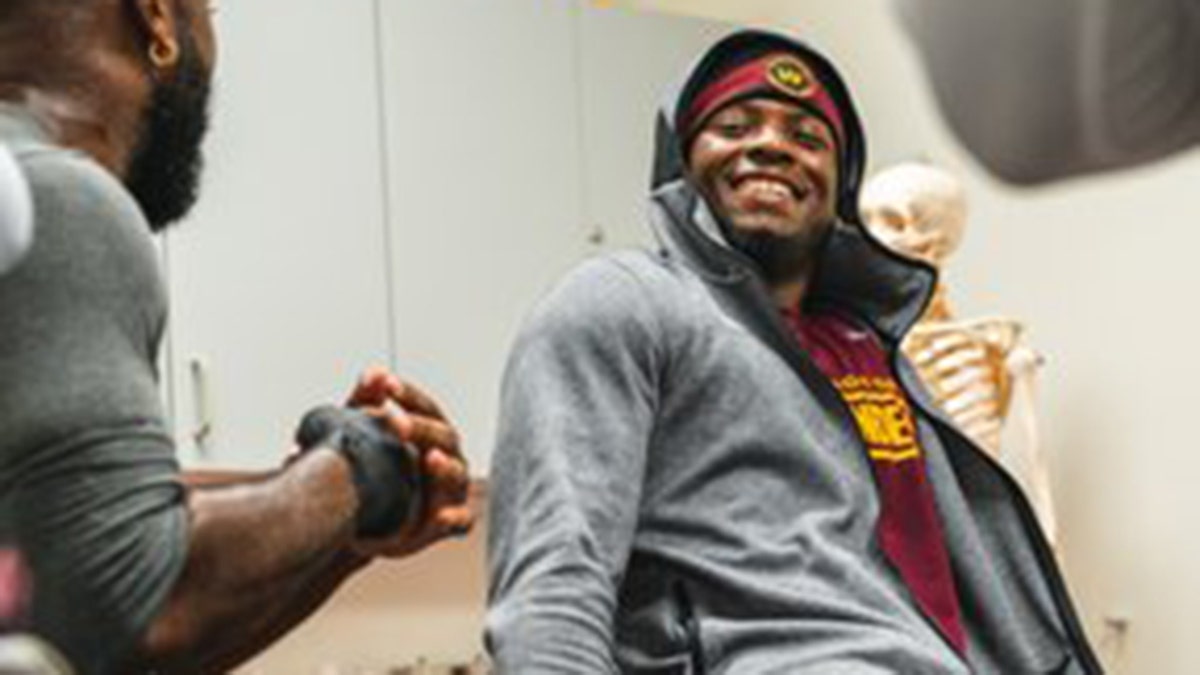 "My mom knew when to allow me to help and when not to. I appreciate her for just staying on me and just making sure I was doing stuff the right way," he said. 
But Robinson's support system went far beyond his mother. Commanders head coach Ron Rivera, then-owner Dan Snyder and NFL fans no matter their allegiances were there for him. He eventually made it back to the Commanders' facility, and wanted to get back to work. 
"I wanted them to know that I was still open to what we had started working on, what we had started building and that I was still committed to the relationships that we had started forming over the summer. I didn't want to put my head down, because I was determined to get back on my feet. That's the type of energy I needed around me. That's the type of energy I give out. I want people to feel like I'm happy and I'm excited, even when sometimes I'm not, because that's the energy that's gonna reflect around you, and that was the energy that I needed," Robinson explained. 
COMMANDERS' BRIAN ROBINSON JR POSTS HEALTH UPDATE FROM HOSPITAL: 'GOD IS GREAT!'
Robinson would eventually find his way back to the practice field after grueling physical therapy and recovery. Six weeks after his shooting, he was suiting up for his first NFL game — something, at one point, he didn't think he would say he could do. 
"I almost had everything taken away from me before I even started," Robinson said. "Even if I didn't gain one yard that day, it wasn't about that. It was about my presence, being able to live through what I had just gone through and also still live my dream of playing in the NFL."
Robinson got to carry the ball nine times for 22 yards, and though it was just 2.44 yards per carry, not even he cared about the production. Running on the field and playing in that game against the Tennessee Titans was a win enough. 
A few days later, Robinson was named the starting running back against the Chicago Bears on "Thursday Night Football." Everyone tuned in to see just what Robinson could do, and he didn't disappoint.
Robinson had 60 yards on 17 carries including his first career touchdown.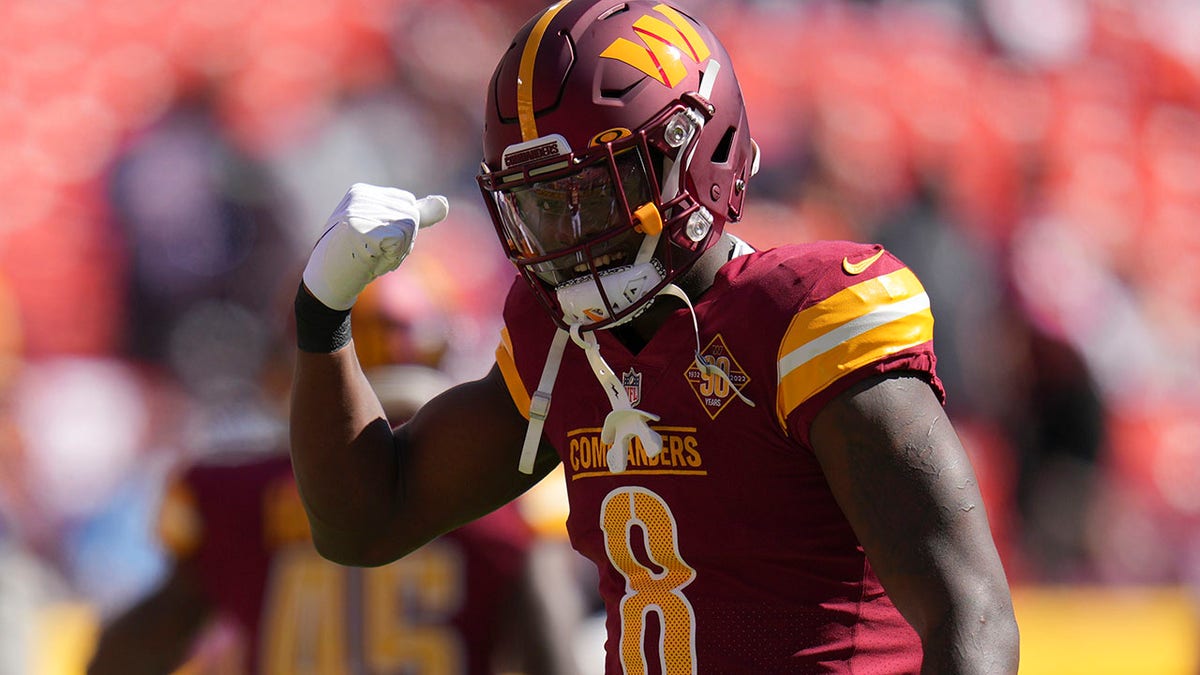 "I knew it was going to be a tough game, and at the time, I didn't really know if I was ready or not," Robinson said. "I didn't know if I could make certain moves and cuts or make certain people miss based on how I felt at the time. But I was going to go out there and play my best.  
"I actually went out there and did a lot better than I was expecting to. That was a perfect moment for me to show what I was bringing to the table for our team."
Robinson had more moments in his rookie campaign, including the "big hat after our game against the Falcons." Robinson was smiling from ear to ear wearing a giant Commanders hat after the 19-13 win in which he rushed for 105 yards — his first 100-yard game of his career. 
While he's ready to start Year 2 in the NFL, Robinson admits that "getting back to my old self is still a process."
"If anybody knows what it's like to get shot through your knee, it's very traumatizing," he said. "I feel a lot better today than I felt a month ago, two months ago, last year. And I'm continuing to take strides.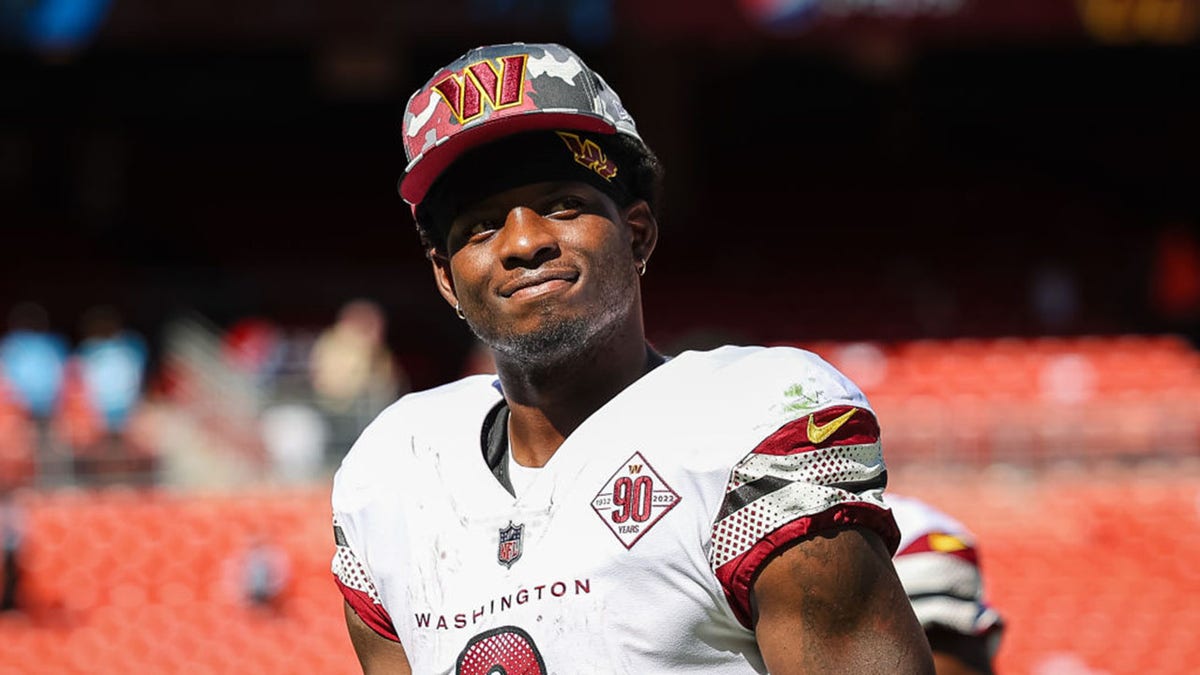 He continued: "I'm a warrior. I feel like I can stand my ground against anything I'm up against. If the battle finds me, I can fight it. That's just my mindset playing running back in the NFL. I want to be the best, so I have to continue creating the right habits on and off the field, investing my time correctly and sticking to my script.
CLICK HERE TO GET THE FOX NEWS APP
"And to whoever is the first defender I see this season, remember this: Don't run."