Hong Kong-based CIOB student member Tony Or has been working on the design of a living complex for the elderly built almost entirely of bamboo, supported by the institute's Construction Innovation Scholarship.
Many countries in Asia and the Pacific region face an incoming 'silver tide' in the form of an ageing population. The Asian Development Bank predicts that the number of people over the age of 60 in the region will triple between 2010 and 2050, reaching close to 1.3 billion people.
In Japan, it's estimated that about a third of citizens will be elderly by 2035. In many cities, waiting lists for elderly public housing are growing.
We believe that a thoughtful approach should be taken to address the housing needs of these distinguished generations.
They deserve homes that are pleasant and accessible. Equally, the homes we build should be economical and climate-friendly. We owe it to all species and generations to avoid creating yet more carbon-spewing concrete forests.
For these reasons, we conceived and designed a three-storey apartment block made almost entirely of engineered bamboo. Our project was made possible by CIOB through its Construction Innovation Scholarship, which sponsors research to improve quality of life.
We were supported by the Department of Architecture and Civil Engineering at City University of Hong Kong. We are recent graduates of the university, representing the disciplines of surveying, building services engineering and structural engineering.
Bamboo is a promising green structural substitute. Manufacturers can make elements including slabs, walls, beams, columns and roofs through a process of sterilising, steaming, compression and laminating.
Engineered bamboo is composed of multiple layers of different thicknesses and grains to produce excellent strength and durability. It is versatile, lending itself to any number of configurations.
Its climate credentials are very good. This hardy plant absorbs carbon dioxide all through its journey to maturity, and the energy needed to make engineered bamboo is far less than that needed to make concrete. Similarly, the emissions created by making it are smaller.
Unlike concrete, bamboo requires no destructive mining for aggregate. It is widely available, with many species common across Asia, Africa, Central and South America. It grows quickly and crop-yield is high compared to timber.
We began with a literature review before moving on to design and calculation. We created digital and physical models for the architecture and structure. Then we tested the physical and mechanical properties of engineered bamboo elements to prove its suitability for residential structures.
Our theoretical bamboo development was designed for a site in Yuen Long, New Territories, Hong Kong.
It consists of five, three-storey apartment blocks, each 8,100 sq m in construction floor area and containing 44 one- and two-bedroom apartments on the first and second floors. On the ground floors are social, dining and reception areas. Roofs are used for building services and gardens.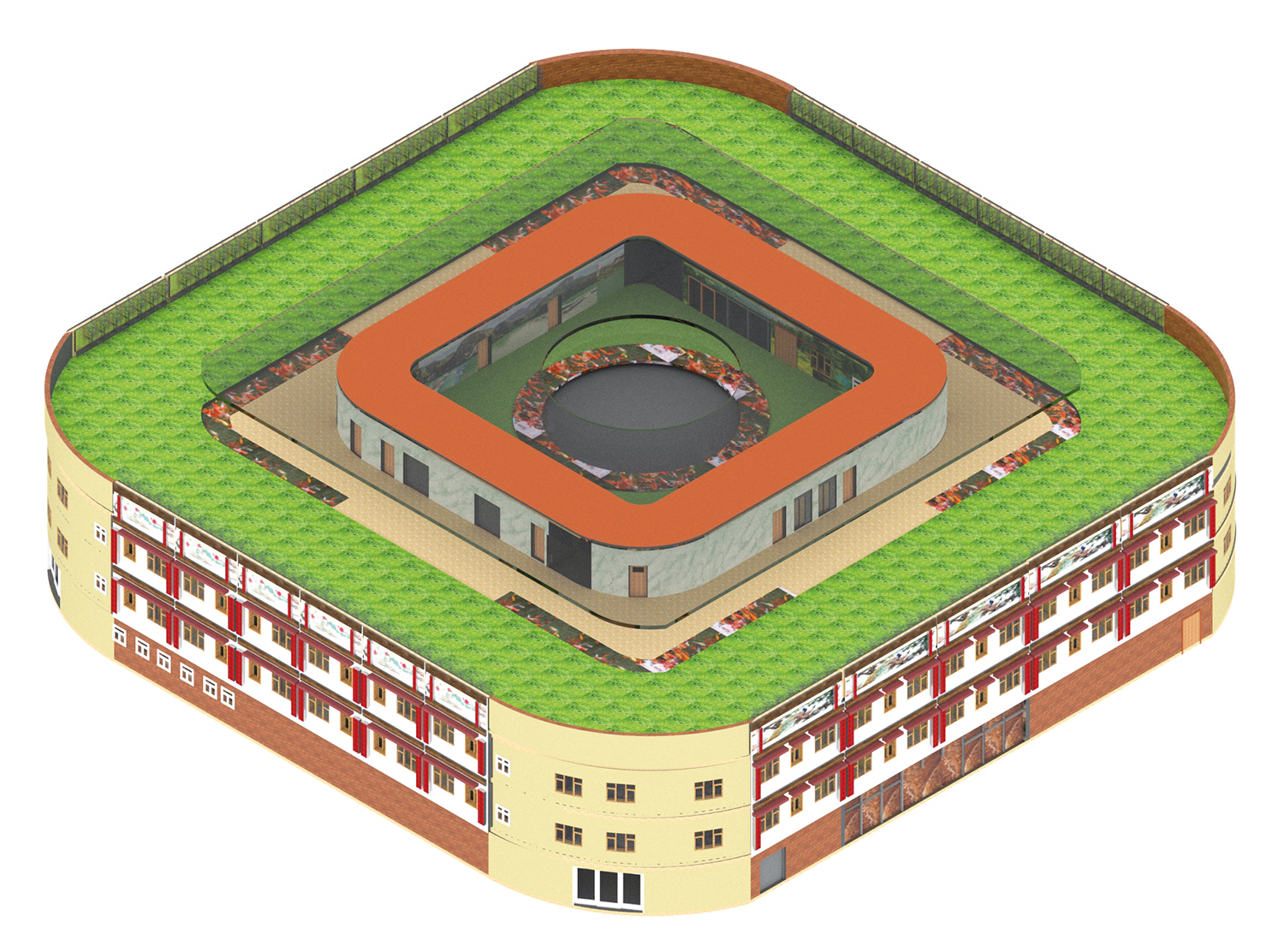 We designed the blocks to be built in a modular fashion, specifying prefabricated elements for faster construction. We used products from Bamboo International Limited for our physical models and for testing.
Compared to conventional concrete construction, we calculated that a non-modular bamboo building would take half the time to build and would save at least 30% of the construction cost. These savings are explained by avoiding concreting and formwork and the relative cheapness of bamboo.
If we use a modular approach with extensive prefabrication, the time and savings get even better: 30% less time compared to the non-modular scenario above and 10% less cost.
A more sustainable future
We believe at least one-sixth of older people in modern cities could be living in bamboo flats by the 2050s.
The challenge is to get government approval to build in this way. More research will help prove its suitableness, so local authorities could help by approving pilot projects. With government support, developers will be more willing to adopt this method and we could harness their commercial power.
It was an honour to receive this international scholarship for a large research project. We're grateful to the Department of Architecture and Civil Engineering at City University of Hong Kong for supporting the modelling and testing.
Our team was Tony Or, Yik-ming Cheung (Ming), Crystal Zhao and David Ng. We thank our supervisors, Professor CW Lim and Dr Ivan Fung, and our CIOB contract manager Hassana Ahmed, senior qualifications liaison manager.
The post Building with bamboo: what we learned appeared first on Construction Management.