While some people consider #adulting to be keeping a consistent bedtime (bliss), never repeating an outfit (overrated), or keeping a consistently organized desk (so satisfying), I define the elusive concept that I've spent my twenties chasing by the following: my ability to whip out and whip up all the fall soup recipes of my choosing come September 1st.
Despite writing this in the middle of a muggy, hot, and sticky day, I've had my sights set on cozy season since last year. And while Lorelai Gilmore and I share an appreciation for the mystical magic of snow, there's something even more wondrous about the crackling of leaves underfoot, the warm mugs of cider I consume with festive abandon, and of course, the many comforting, autumnal meals made all the more special thanks to the fall soup recipes below.
So if you're craving a dose of cozy, look no further than the wholesome deliciousness ahead. Let soup season begin!
Featured image by Michelle Nash.
29 Fall Soup Recipes to Satisfy Your Craving for Coziness
Curry Butternut Squash Soup
Why We Love It: It felt appropriate to kick things off with one of my all-time favorite fall soup recipes. When September hits, I'm ready to eat all the squash every day—and for every meal. There's something about the smoky-sweet flavor of this soup that simply epitomizes fall. It's velvety, thick, and, thanks to the curry powder, just a bit spicy and warm. Translation: perfect.
Hero Ingredient: I'm never one to skip the opportunity to enjoy a slice or two of toasty bread alongside my soup. The croutons make that necessity all the more fun.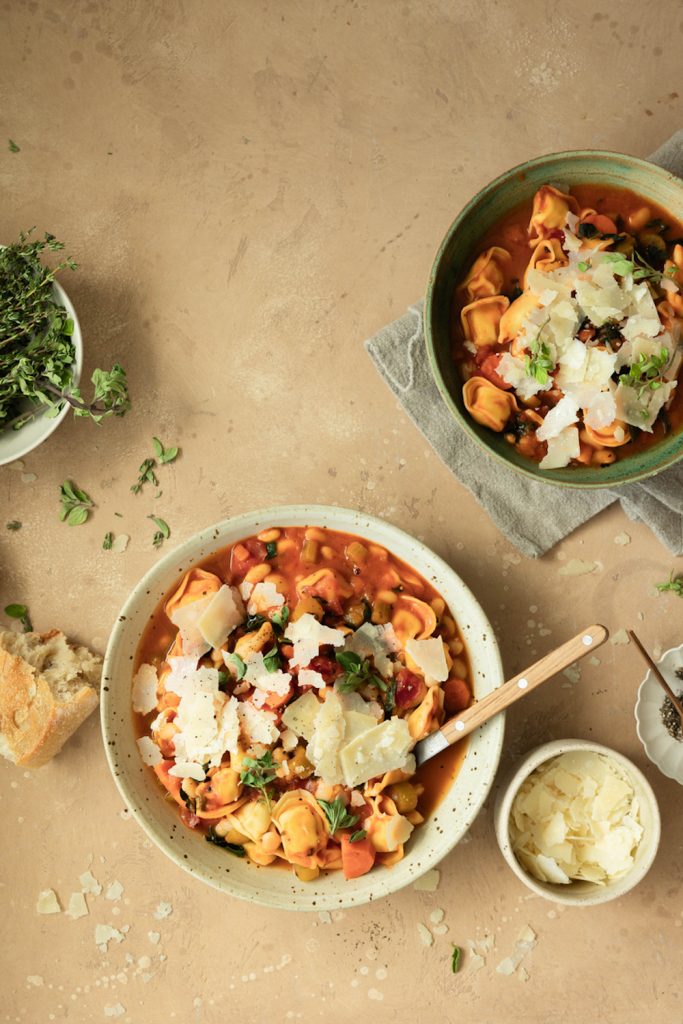 Fire Roasted Tortellini Soup
Why We Love It: A bland soup can seriously ruin the cozy ritual for me. But with recipes like this fire-roasted fall tortellini soup, flavor is never lacking. There's no doubt that this recipe is at the top of my list to cook this season.
Hero Ingredient: A bit of parmesan to top this hearty, pasta-adjacent soup is a rich and creamy touch.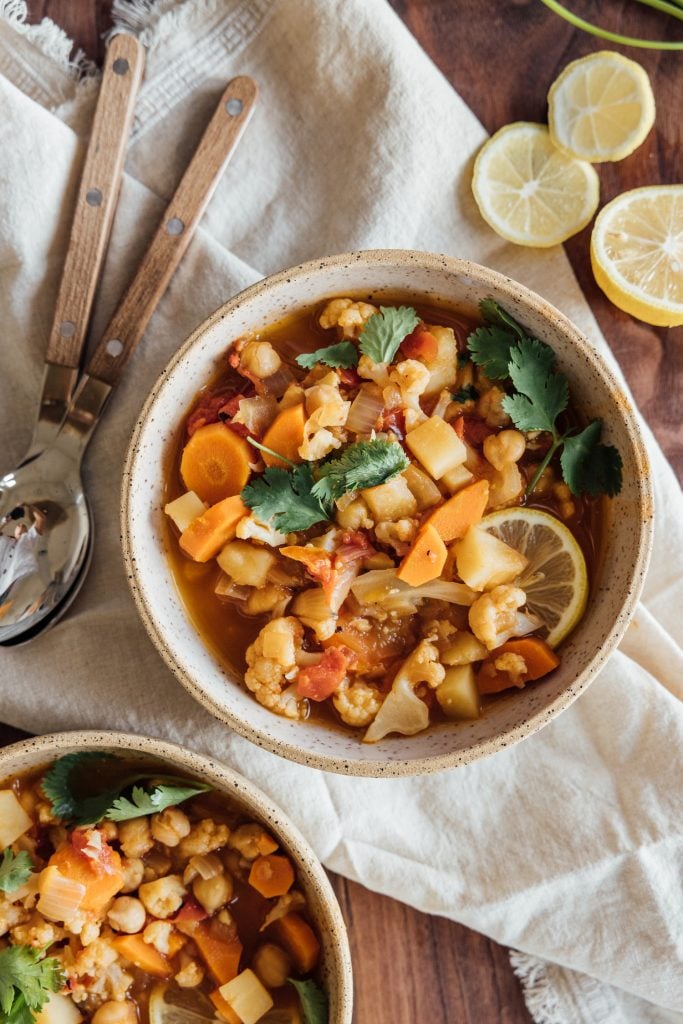 Vegetarian Chickpea Stew
Why We Love It: Fall soup recipes are one of the easiest ways to pack in so many nutritious fruits and veggies. With immune-boosting ingredients like lemon and carrots, and protein from chickpeas, you'll stay happy and healthy during cold and flu season.
Hero Ingredient: My soup isn't the same without cilantro.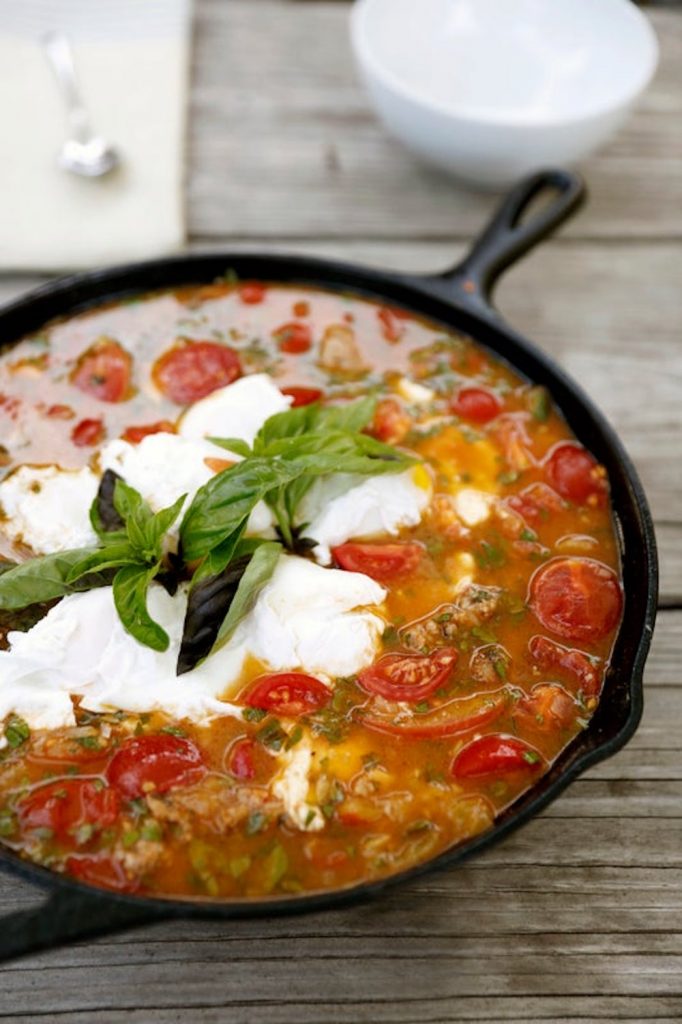 Tomato Basil Soup
Why We Love It: Isn't this tomato soup skillet just stunning?! A blend of creaminess and savory roasted tomatoes makes for the ultimate soup with a pretty unconventional cooking method.
Hero Ingredient: What's tomato soup without fresh basil? (And for that matter, a grilled cheese served alongside… )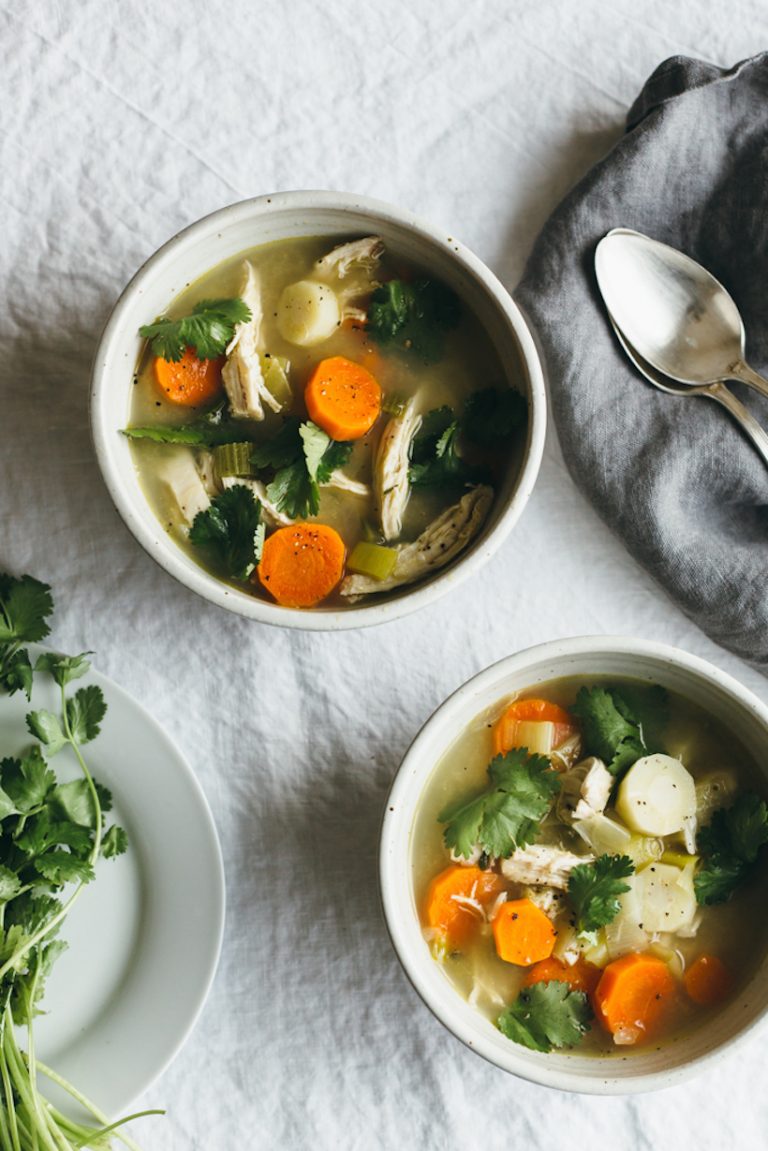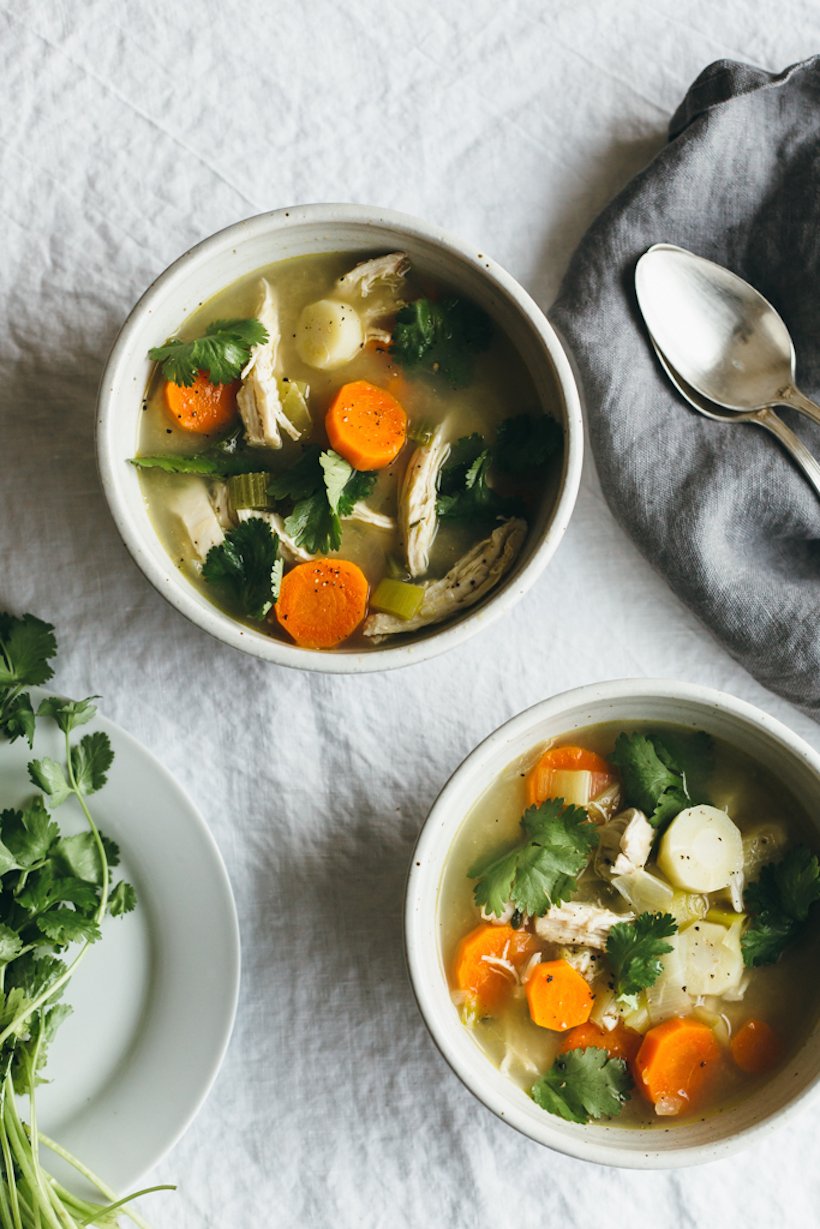 Chicken and Winter Vegetable Soup
Why We Love It: Think—chicken noodle soup, but way more delicious. To keep your bowl gluten-free, this soup doesn't contain any noodles but instead includes a ton of great veggies to keep it a hearty meal. The best part? This seemingly elaborate soup only takes 20 minutes to cook.
Hero Ingredient: A bay leaf can make a big difference when cooking—whether it be a pot of beans or a delicious fall soup.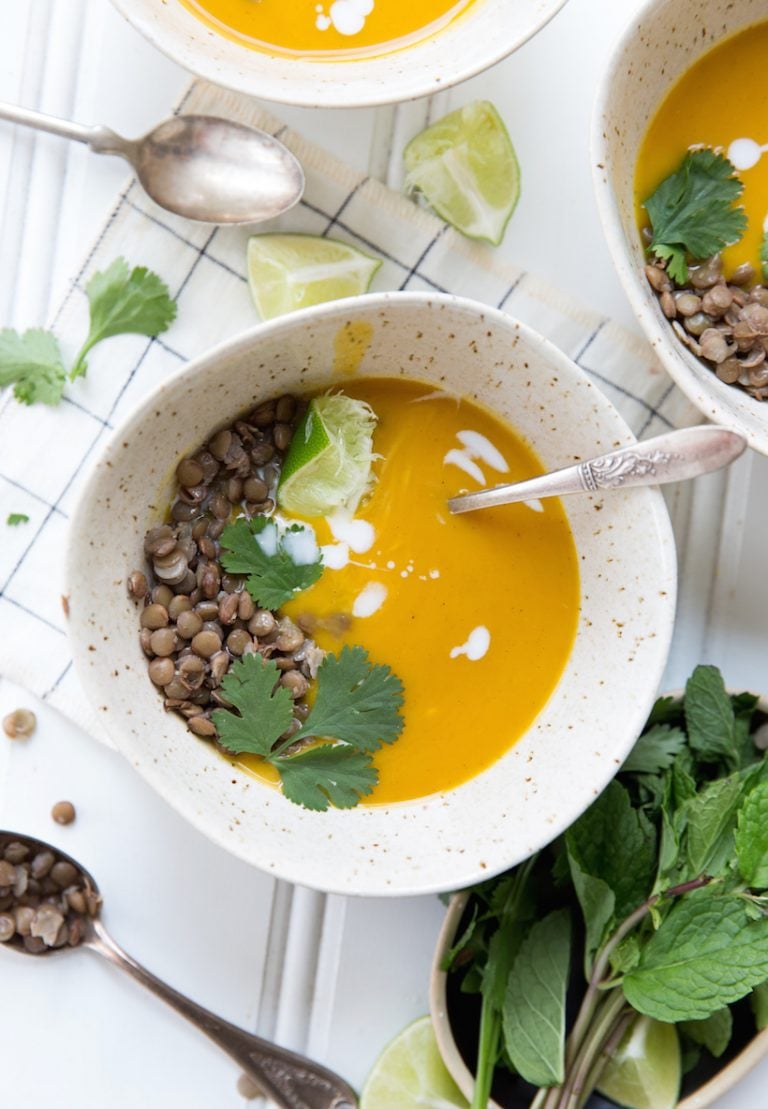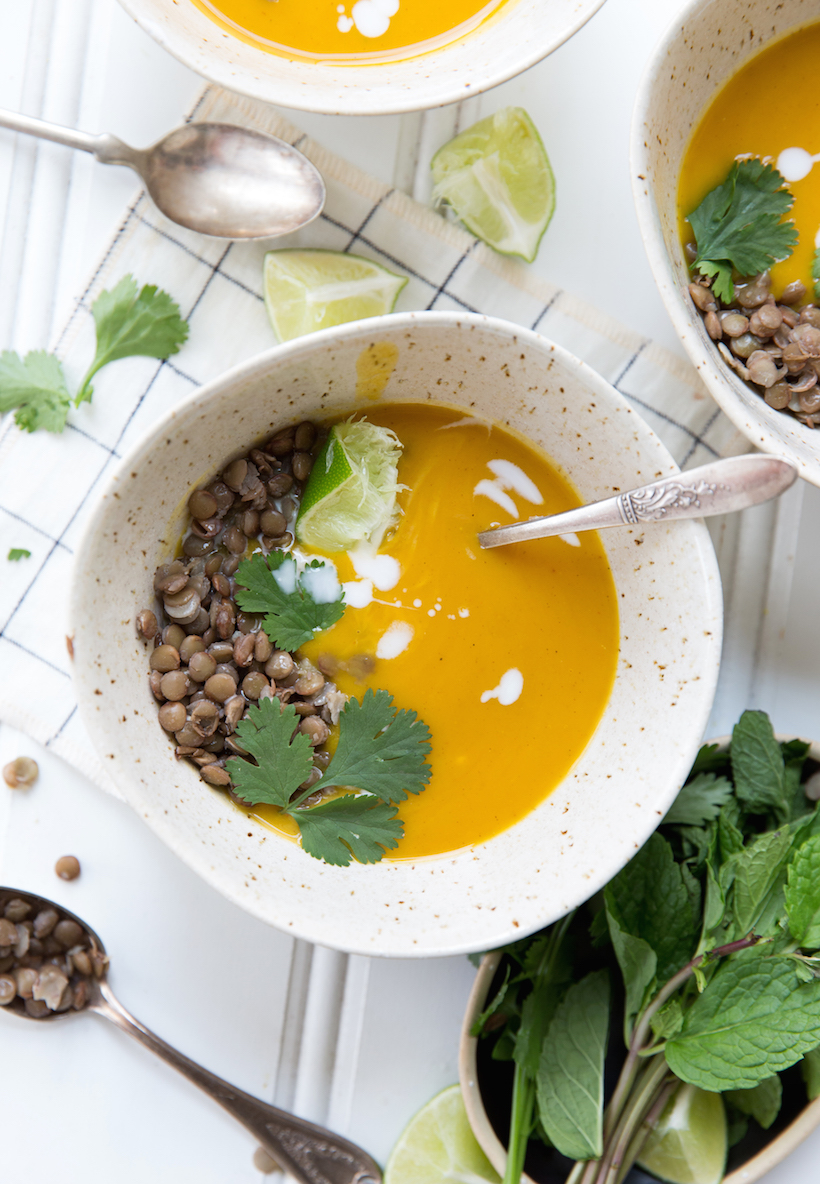 Creamy Pumpkin Soup with Curry and lentils
Why We Love It: I'm guilty of being a pumpkin lover when it comes to just about everything, but recently I've strayed from the sweeter pumpkin-flavored dishes. Enter: this delicious curried pumpkin soup. It has all of the Indian-inspired flavors I crave during the fall months, along with hearty lentils and creamy coconut milk.
Hero Ingredient: If you haven't cooked with a fresh pumpkin, let this be your introduction.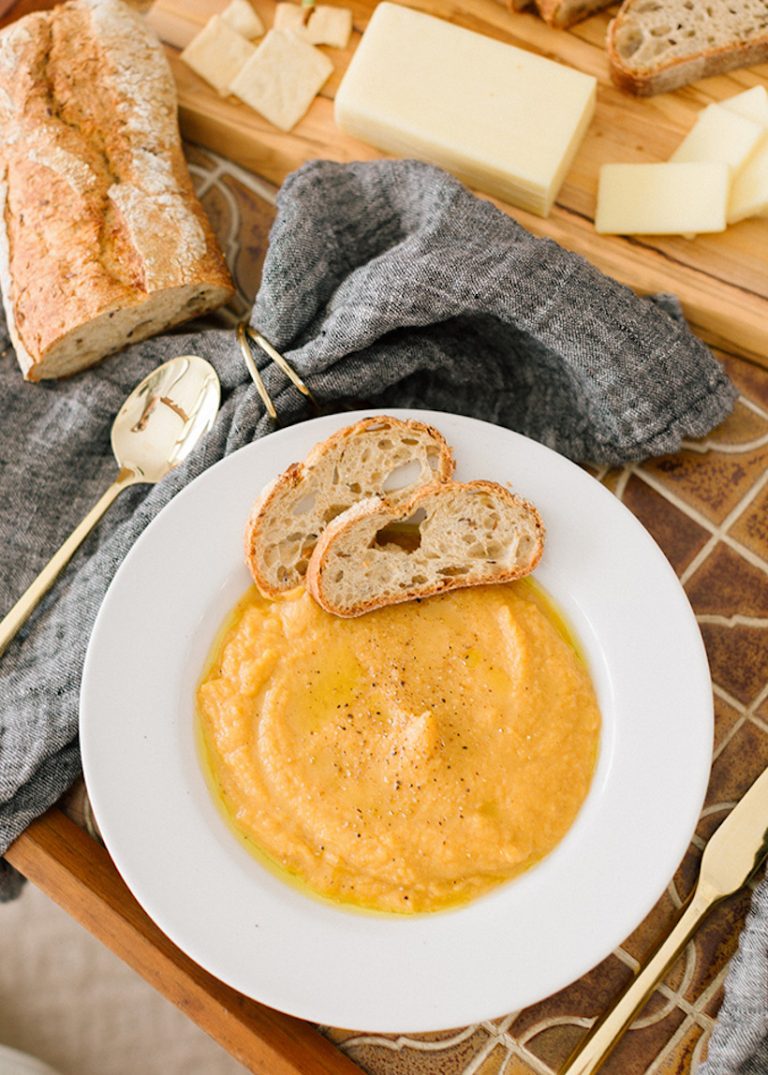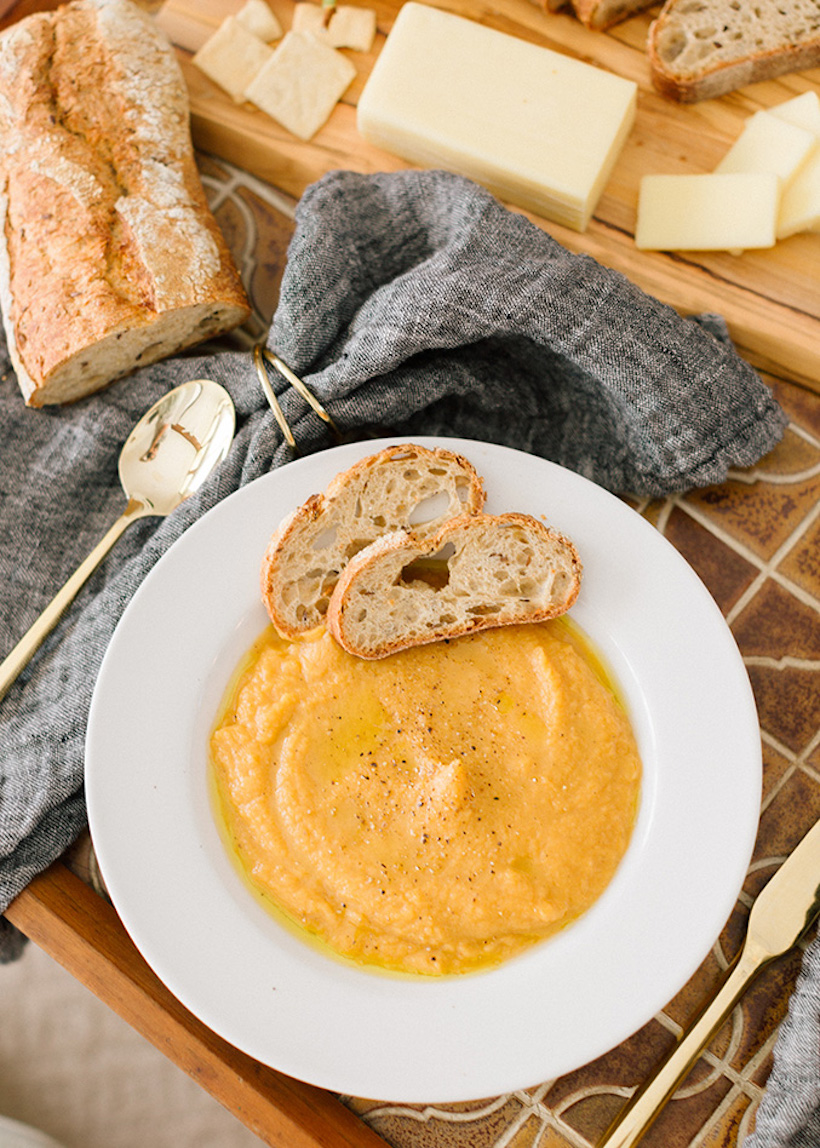 Sweet Potato Soup
Why We Love It: Sweet potatoes are an ingredient I almost always have on hand in my kitchen during fall, making it the perfect beginning to the perfect soup. Creamy and deliciously spiced, this soup is the ideal balance of sweet and savory I crave in my autumn soups.
Hero Ingredient: A dash of cinnamon lends a nice depth of flavor to every bowl.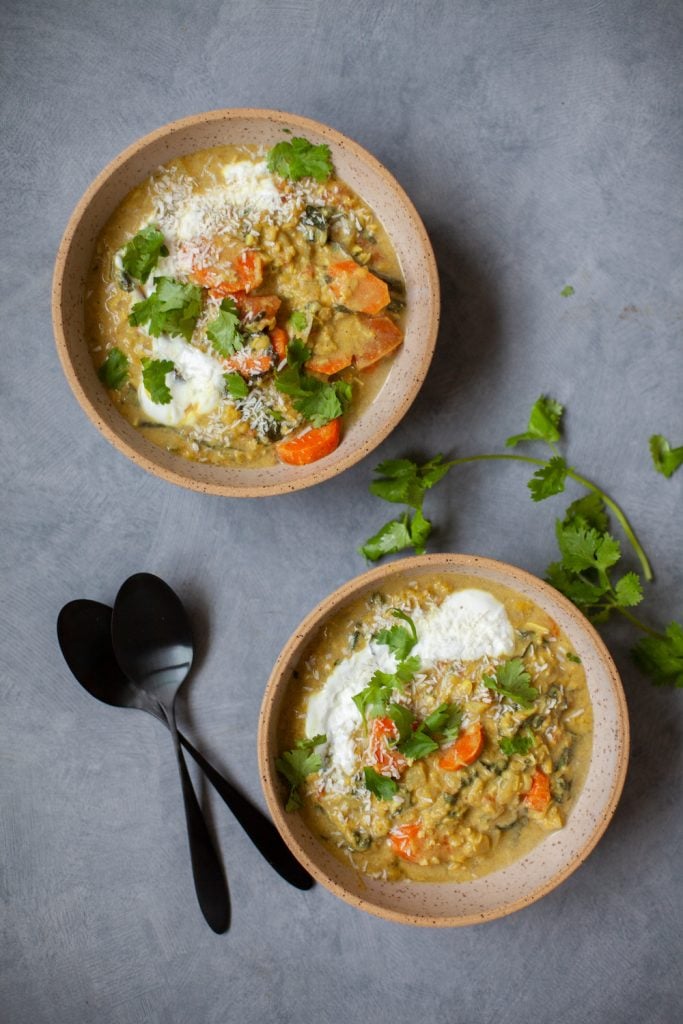 Coconut Curry Red Lentil Soup
Why We Love It: My mom has a lentil soup recipe that's turned even my most veggie-adverse friends into legume lovers. And while that's the one I turn to time and again, this spin introduces unexpected flavors that I'm happy to spoon up. The ginger and curry powder supply just the right amount of heat, while the orange zest cuts it with a little sweetness. It's hard to believe such a complex flavor can be so easy to create.
Hero Ingredient: Lentils are the ultimate intersection of healthy and satisfying. They pack a ton of plant-based protein (18 grams per cup, to be precise) and, as Camille mentions in this recipe, include iron, fiber, magnesium, and calcium.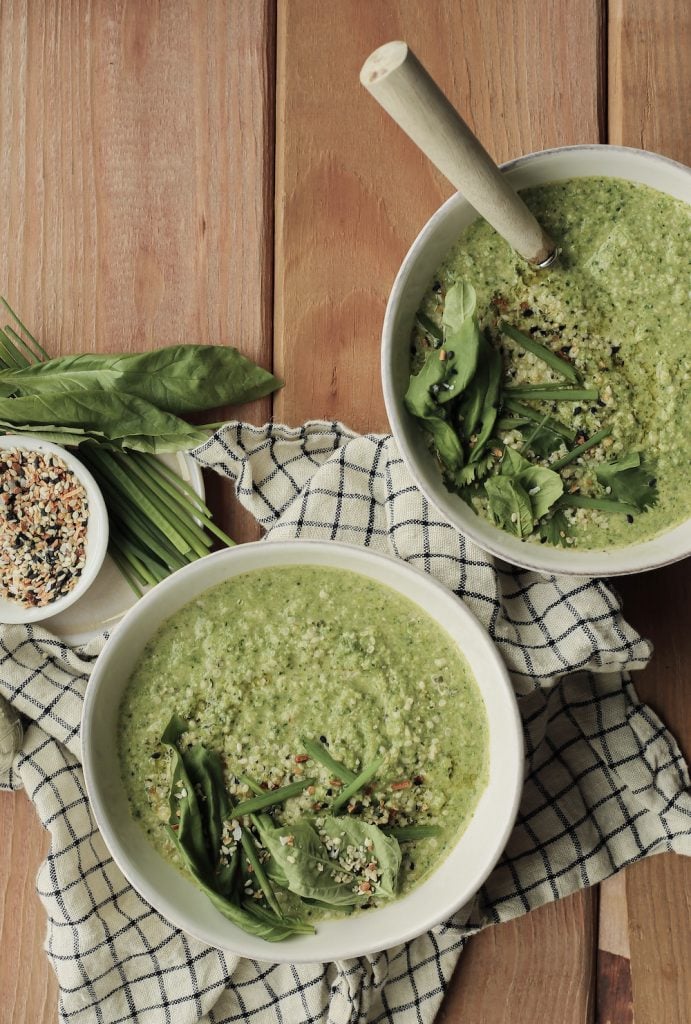 Big Green Immunity-Boosting Vegetable Soup
Why We Love It: The moment I learned I could pack a whole day's worth of green veggies into a single serving of soup, well, I was floored. This immunity-boosting recipe not only makes healthy eating efficient but super yummy, too. Broccoli, asparagus, spinach, and plenty of herbs—a whole potful of earthly delights.
Hero Ingredient: The soaked cashews give this soup its crave-worthy creaminess. Betcha can't have just one bowl.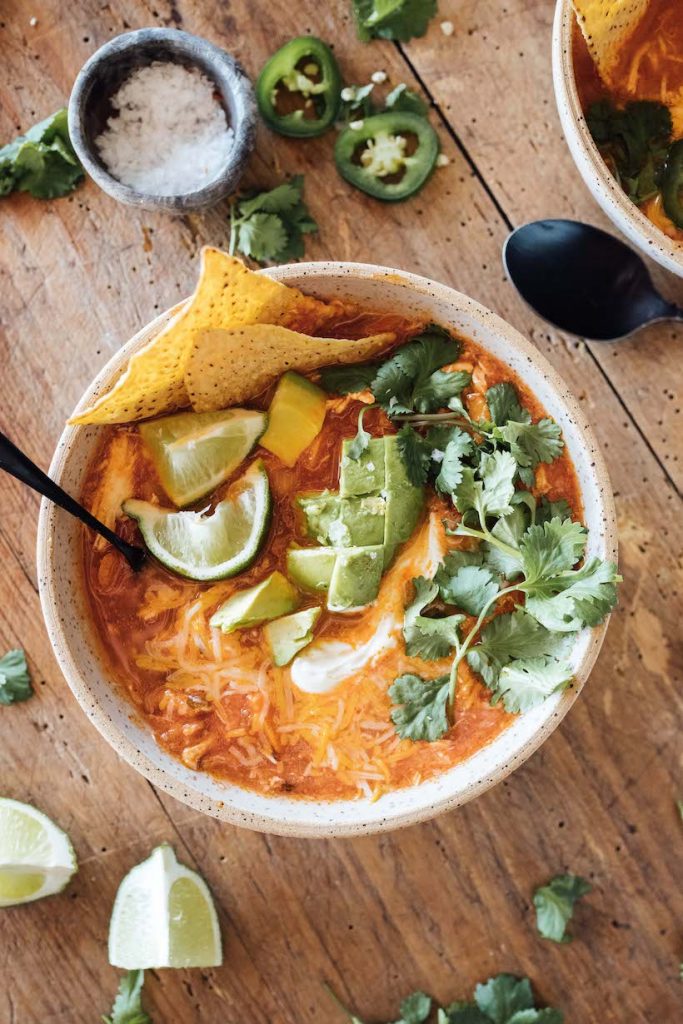 Easy Mexican Chicken Tortilla Soup
Why We Love It: While some tortilla soups go heavy on the combo of cheese and sour cream, this one encourages the garnishes while creating enough flavor in the soup itself that you don't have to go overboard. Camille's secret to giving this soup major tasty points? Cooking the bone-in chicken (don't you dare remove the skin!) in the oven before adding to the soup. It poaches in the broth, making the entire shebang all the more delish. Max flavor for minimal effort.
Hero Ingredient: I can't repeat it enough: that chicken trick blew my mind.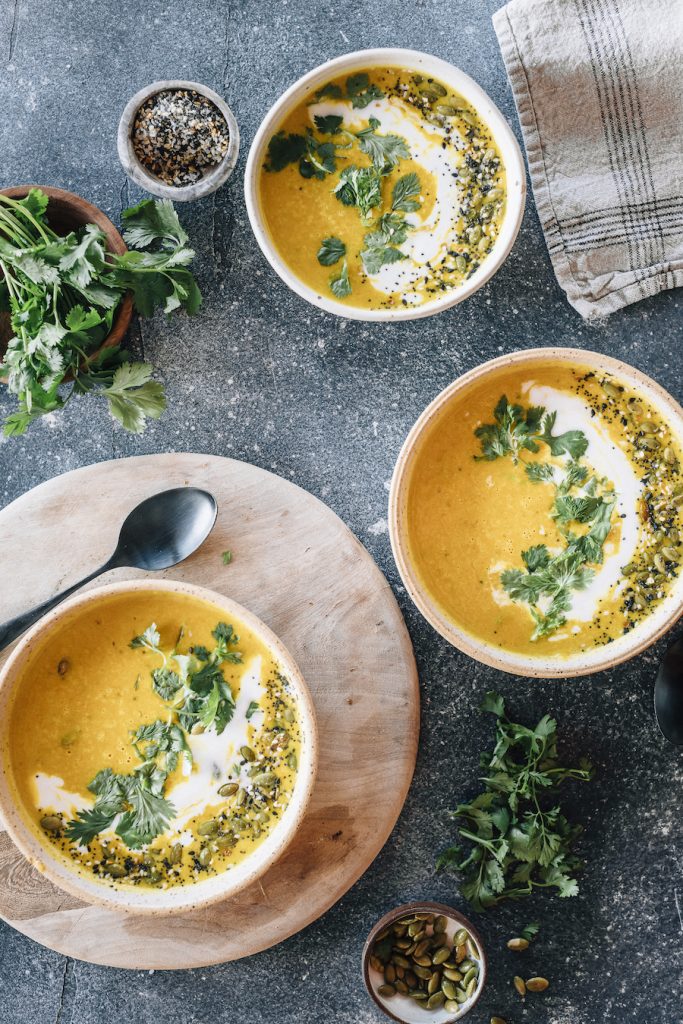 "Creamy" Vegan Butternut Squash Soup with Ginger & Coconut Milk
Why We Love It: As proven by the first recipe in this list, I have a thing for squash—butternut in particular. It's the perfect base for any array of flavors—spicy, sweet, smoky—you name it! In this recipe, Camille plays up its natural sweetness by combining the squash with carrots, oranges, and honey while balancing it all out with a bit of turmeric. Sunshine in a bowl.
Hero Ingredient: I love the sweet and warming spice the ginger brings to each bowl.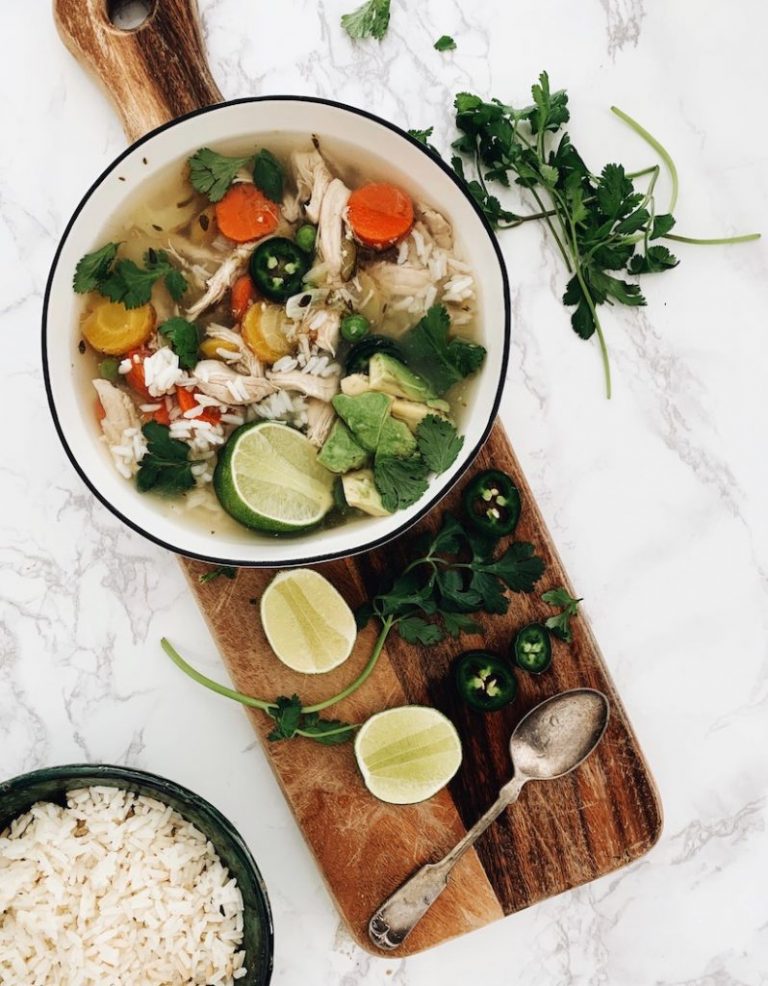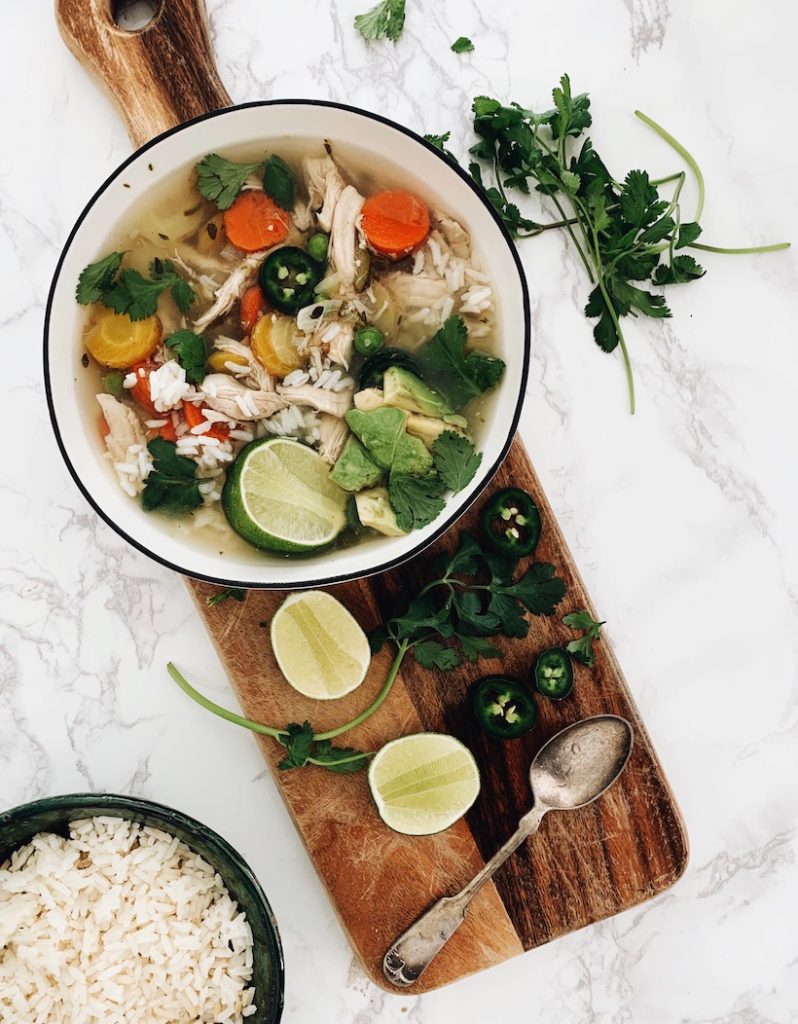 Easy Mexican Chicken & Rice Soup
Why We Love It: Whether your sniffles are signifying the start of a cold or you're just in the mood for something light but satisfying, this easy fall soup recipe has you covered. With plenty of veggies (onion, carrots, celery, zucchini, and garlic), a lightly-flavored broth, and the comforting combo of chicken and rice, this soup is truly a cure-all for anything that ails you.
Hero Ingredient: A few sprigs of thyme or oregano is all you need to seal the deal on this simple soup.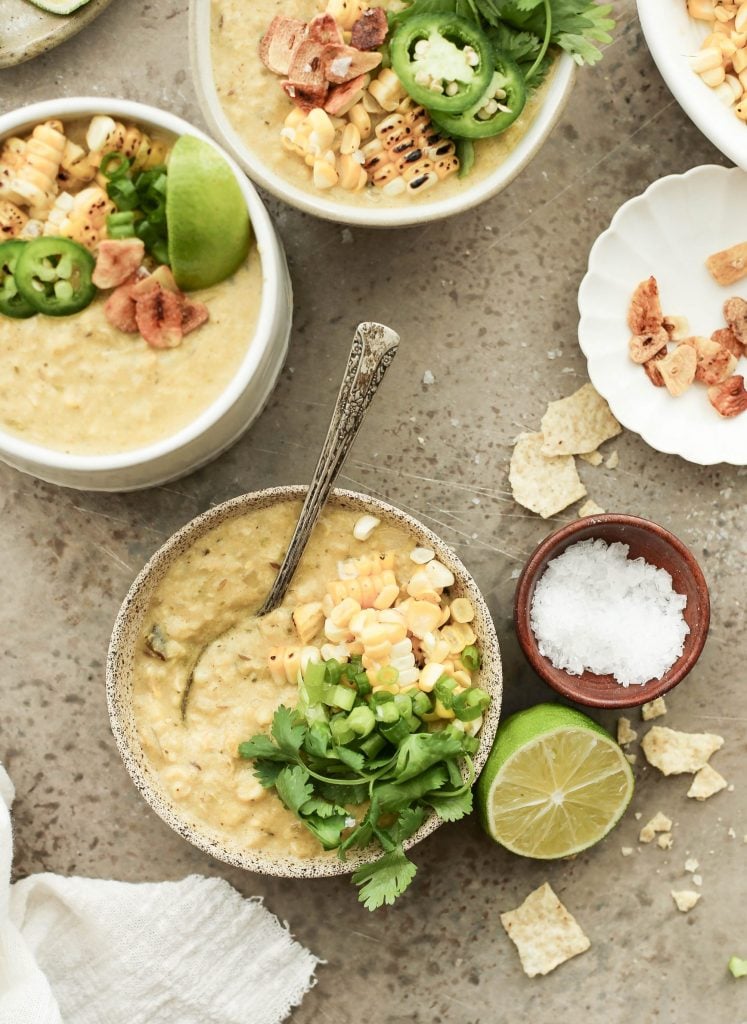 Vegan One Pot Spicy Corn Soup
Why We Love It: When I think of corn soup, my mind goes to creamy, heavy bowls of my favorite chowders. And while these recipes are definitely delicious, they also leave me in need of a nap by the time my spoon hits the bottom of bowl. I love that this plant-based recipe takes a non-dairy approach by subbing in coconut milk for heavy cream or milk, making this soup taste indulgent while still letting the other flavors (supplied by the poblanos, cumin seeds, jalapeño, and more) shine.
Hero Ingredient: While this recipe makes the most of frozen corn (such an easy cooking hack!), be sure to purchase corn you'd enjoy on its own. A soup's only as good as its star ingredient, after all.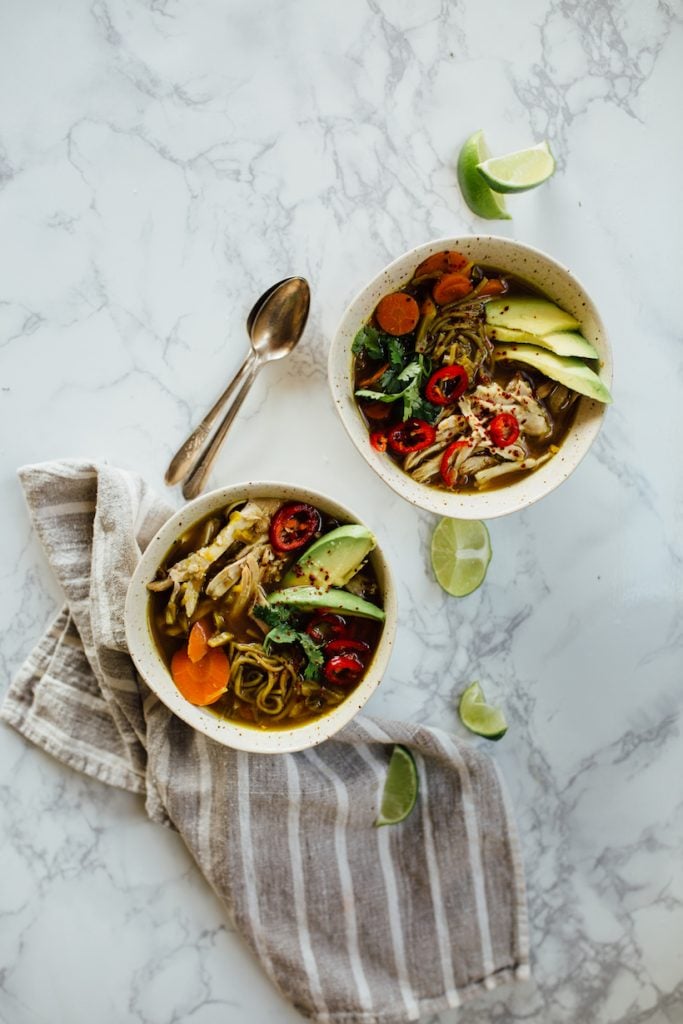 Turmeric Chicken Soup
Why We Love It: While this list of fall soup recipes includes others that lean on the classic chicken noodle combo, this one gets a unique spin thanks to the addition of turmeric that infuses the broth with its golden glow. Of course, by now, most of us know that any recipe using turmeric comes with plenty of immune-boosting benefits, and this soup is no different—it's the ultimate superfood.
Hero Ingredient: This recipe makes the most of rotisserie chicken, every busy cook's secret weapon for getting dinner on the table before midnight. It's the best bang-for-your-buck ingredient that delivers plenty of protein and satisfying flavor.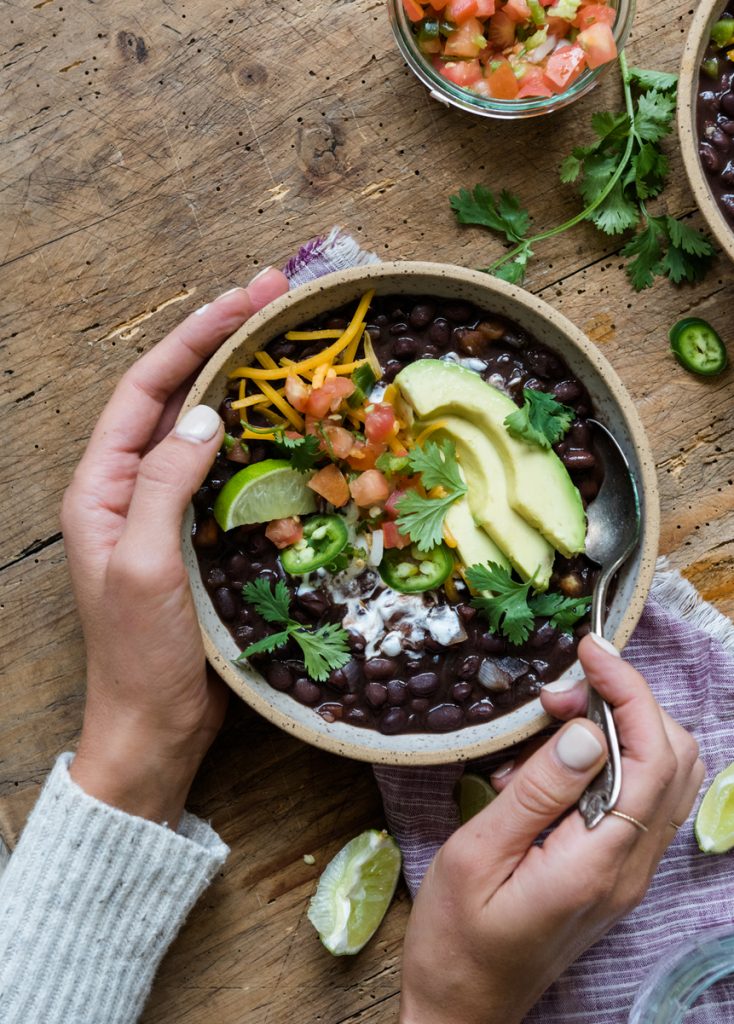 Easiest Ever Black Bean Soup
Why We Love It: When the temps drop, and I start to (happily, enthusiastically) pile on the layers, I know it's time to make this black bean soup on repeat. It's a one-pot wonder, utilizing the convenience of canned black beans to help you make dinner with ease. If you've ever found yourself at 5:30 on a Tuesday evening without a clue of what to cook, this will always be the answer. (Because I bet you have everything you'll need in the pantry already.)
Hero Ingredient: Chili powder is the secret to giving this soup a wonderfully Tex-Mex feel.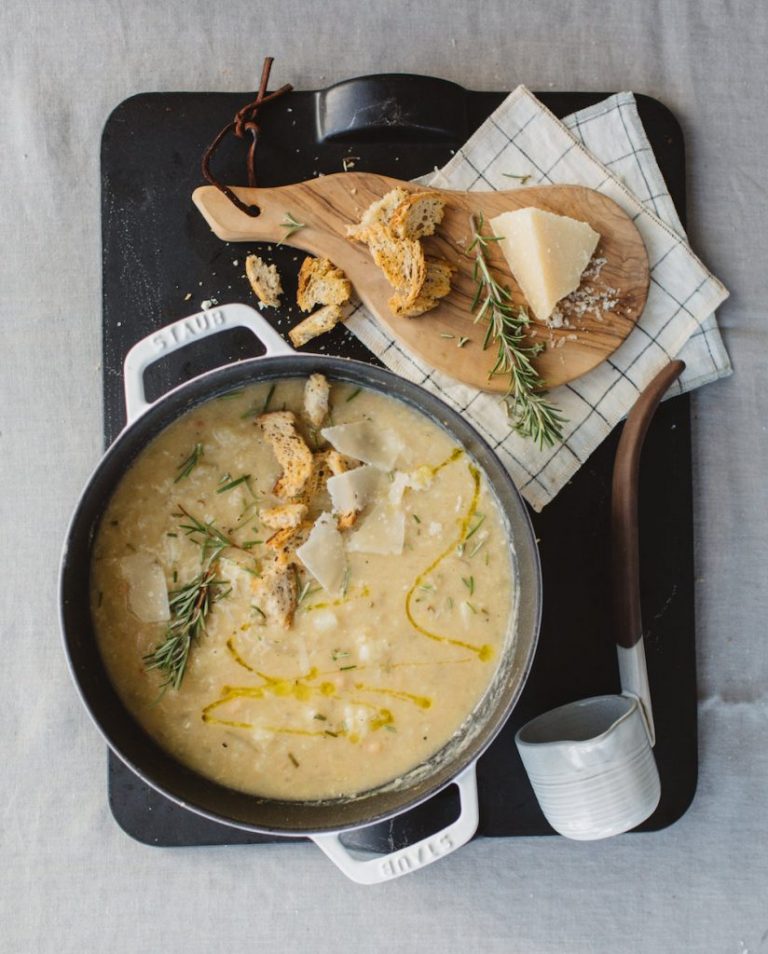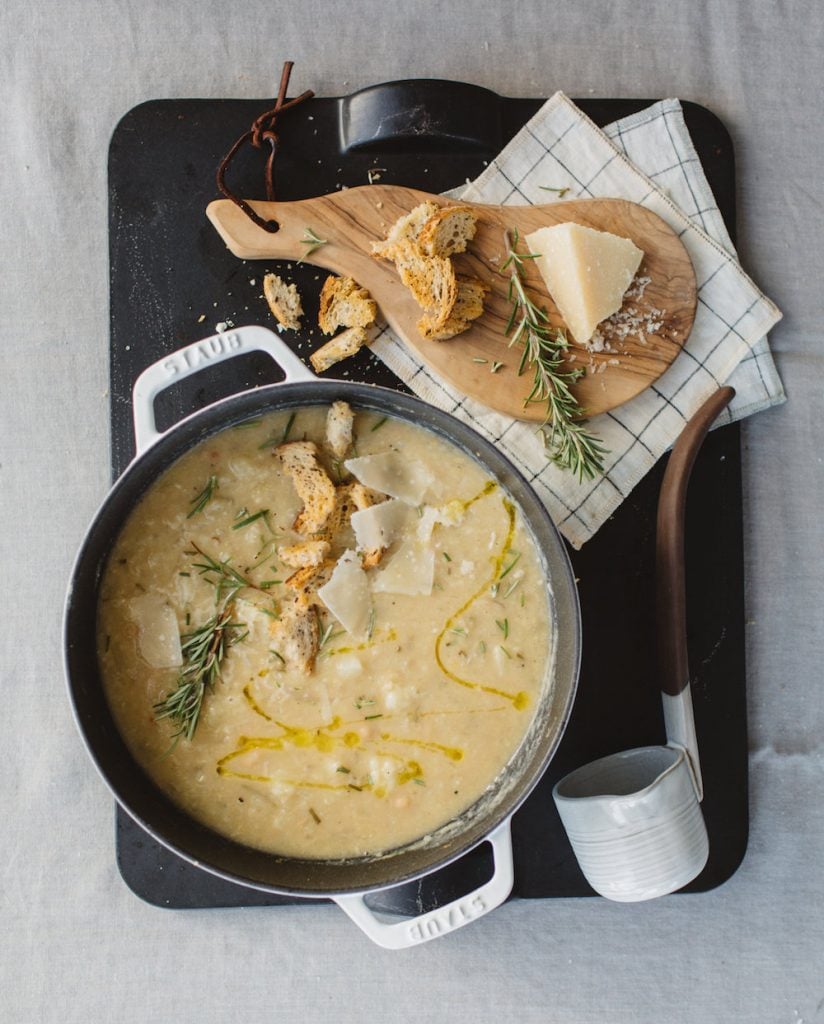 Roasted Cauliflower White Bean Soup With Rosemary
Why We Love It: There are few things I love more in this life than roasted cauliflower (friends and family can attest to this fact). Roasting the garlic before adding it to the pot gives the soup a gorgeous, caramelized bite. This is idyllic dining, y'all.
Hero Ingredient: The brilliance of a bit of red pepper packs this soup with a subtle kick.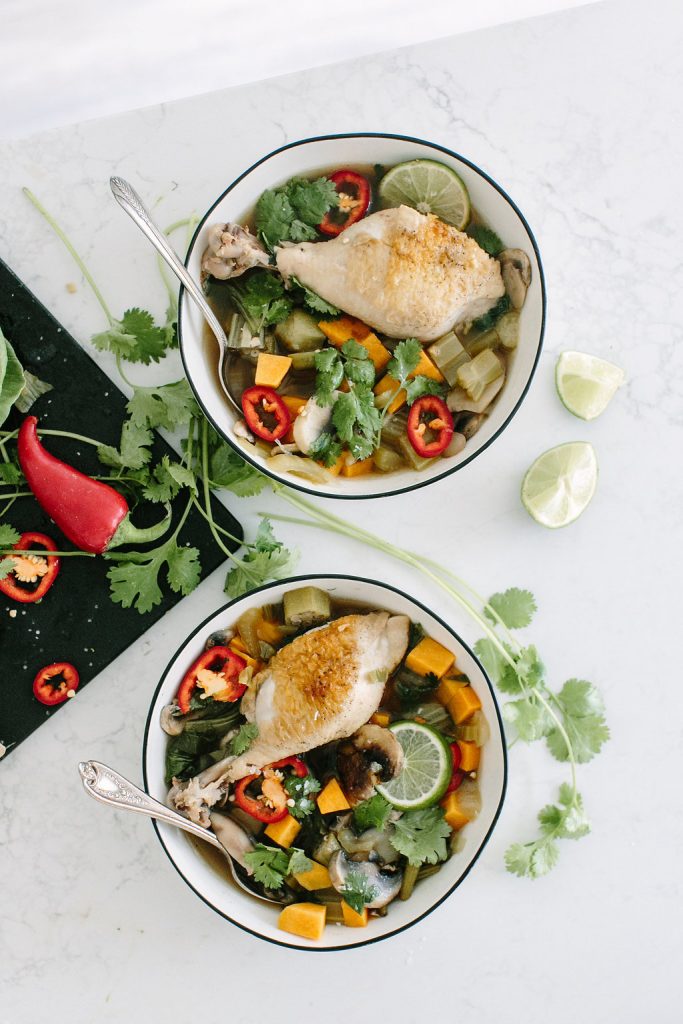 Thai Chicken Soup with Butternut Squash & Bok Choy
Why We Love It: Butternut squash makes an appearance again! This time, instead of a creamy take, it's cubed and mixed with plenty more veg—okra, baby bok choy, and mushrooms—plus all my favorite Asian-inspired flavors. It's weekend fall comfort food at its finest.
Hero Ingredient: While the final touch of thinly sliced red chili pepper or jalapeño is technically optional, in my heat-loving book, it's a necessity.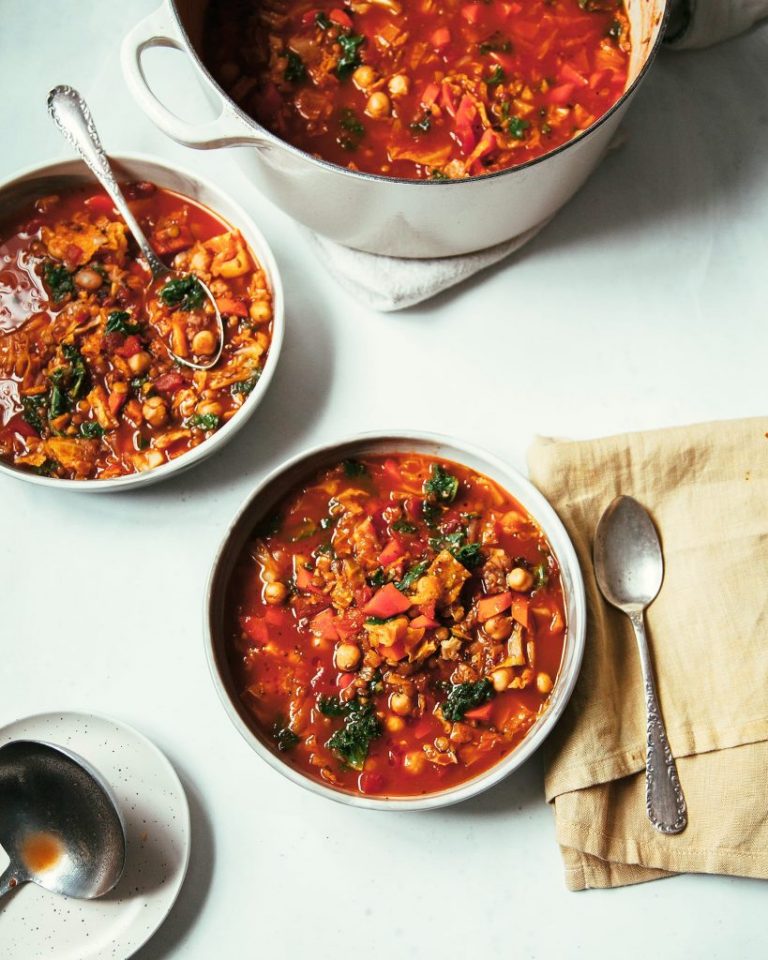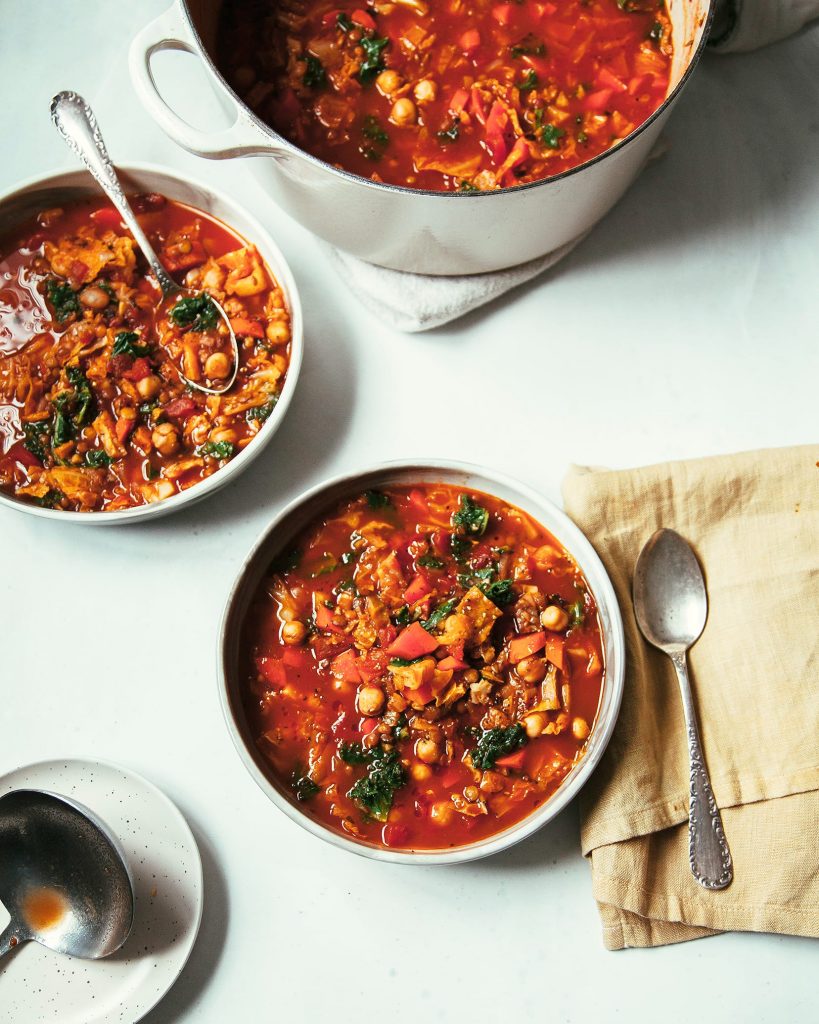 Smoky Chickpea, Cabbage & Lentil Soup With Kale From The First Mess
Why We Love It: One of the beautiful things about soup is that its basic formula allows you to combine a bunch of disparate parts into one perfectly flavored masterpiece. Case in point, this soup-stew hybrid. As its name suggests, the recipe pairs chickpeas with cabbage, lentils, and kale—but trust me, it's so much more. Sautéing the veggies in the spices until fragrant builds this soup's depth of flavor, making each bite its own unique spoonful of perfection.
Hero Ingredient: The liquid smoke, while optional, mimics the unbeatable flavor of actually cooking with wood smoke. Go out of your way to secure some for your pantry—you won't regret it.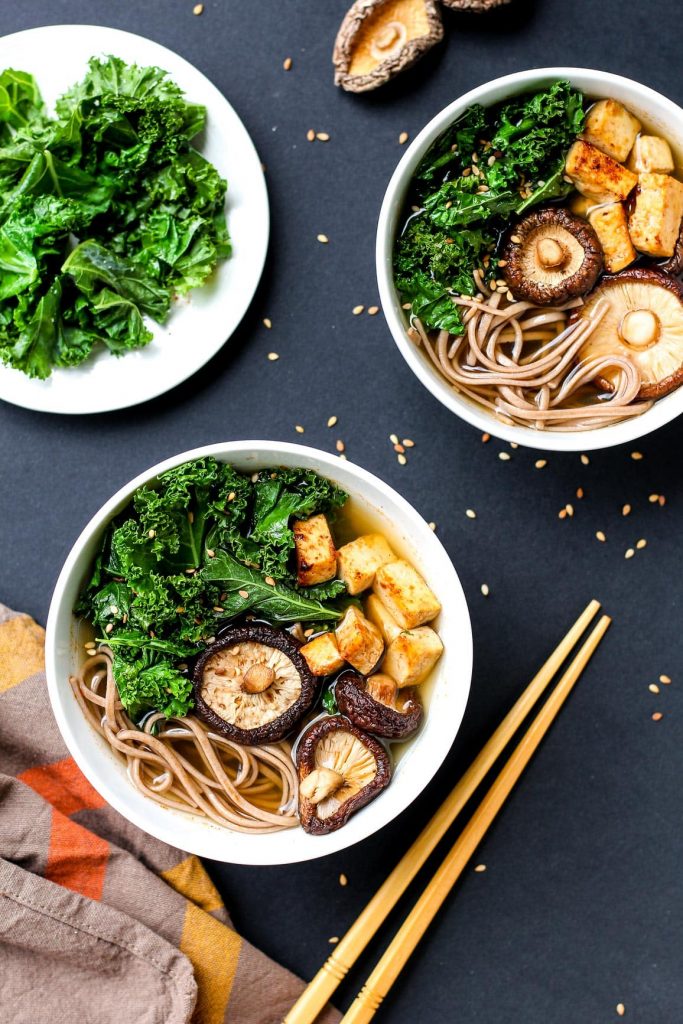 Lemongrass Soup with Sautéed Kale From Full of Plants
Why We Love It: There's something so wonderfully ephemeral and hard to pin down about lemongrass. It's citrusy, floral, and possesses the softest, almost perfume-like brilliance. If you can't tell, I'm a bit obsessed with the long, grassy stocks and stems, and they're the showstopper of this simpler-than-it-seems soup. There's nothing but goodness in this recipe—both your stomach and taste buds will approve.
Hero Ingredient: While I could write ode upon ode to the beauty of lemongrass, in this recipe, it's the dried shiitakes that truly blow me away. They give your broth a wonderful umami flavor that's rich and oh-so-satisfying.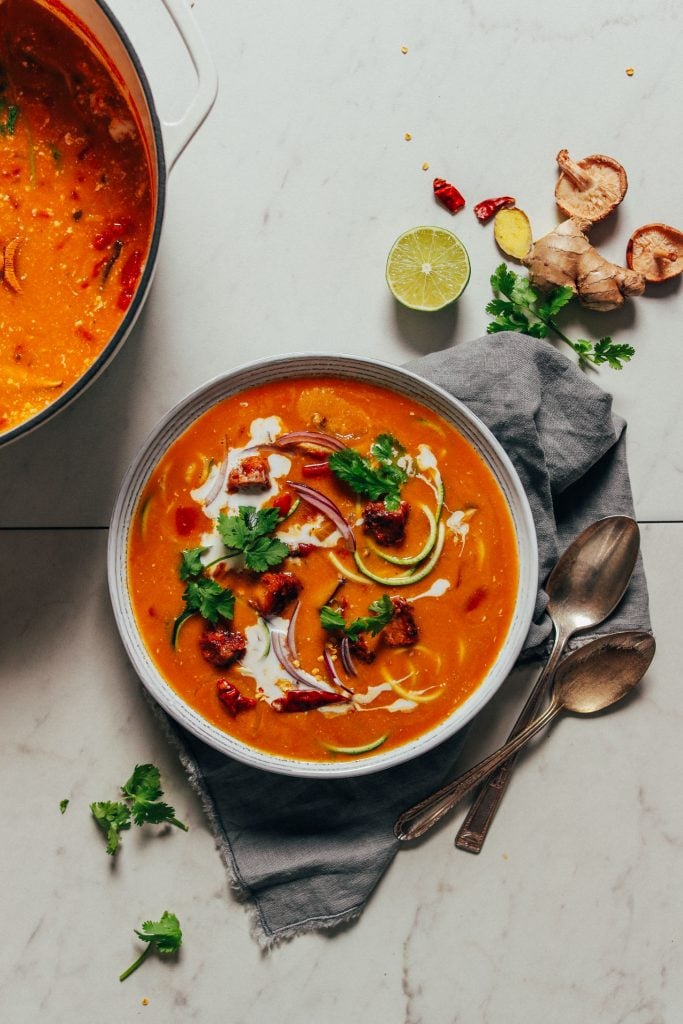 Lazy 1-Pot Vegan Tom Yum Soup From Minimalist Baker
Why We Love It: Lazy, yes. Delicious? Also yes. I'm here for any and all one-pot soups, but this recipe completely redefines my love affair with the streamlined, minimal clean-up method. The medley of aromatics sautéd in coconut oil builds the base of this cozy soup. Lemongrass, chili peppers, minced ginger, shiitake mushrooms, and more are all coated in green curry paste and coconut milk. This is fall comfort cooking at its finest.
Hero Ingredient: A few tablespoons of coconut aminos give your soup just the right amount of saltiness.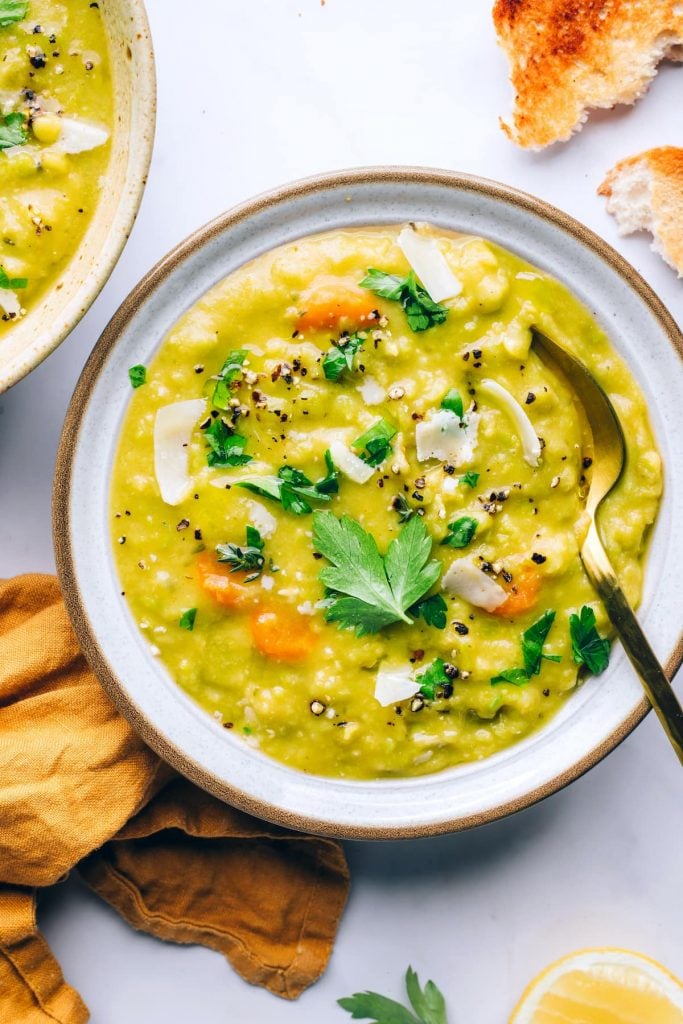 Vegan Split Pea Soup From Eating Bird Food
Why We Love It: I have fond memories of huddling around the kitchen table with my family, still chilled from soccer practice, tucking into a bowl of split pea soup. There's really nothing that warms you up more after a cold and crisp fall day. And because this plant-based version steers clear of any animal products, everyone, regardless of dietary restrictions, can enjoy.
Hero Ingredient: This blend of spices is unbeatable. Make this soup, and I guarantee you'll agree.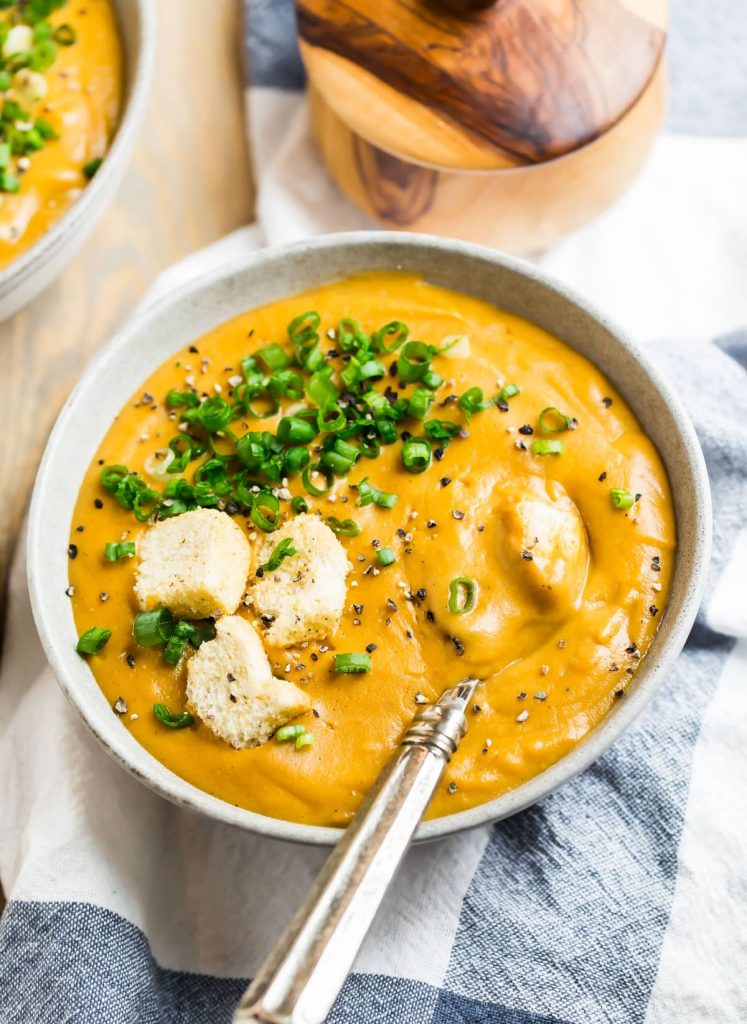 Vegan Potato Soup From Well Plated By Erin
Why We Love It: Potato soup, while one of my favorites, has been known to weigh down diners with its copious amounts of cream. Thankfully, cashews made their way into the plant-based cooking scene, and our vegan soups have been beautifully creamy ever since. Combine their luscious mouthfeel with a bit of nutritional yeast, and you'll have a cheesy soup that's just as good as the real, dairy-laden deal.
Hero Ingredient: Nutritional yeast is my secret weapon—it's the star ingredient you didn't know your pantry needed. That is, until now, of course.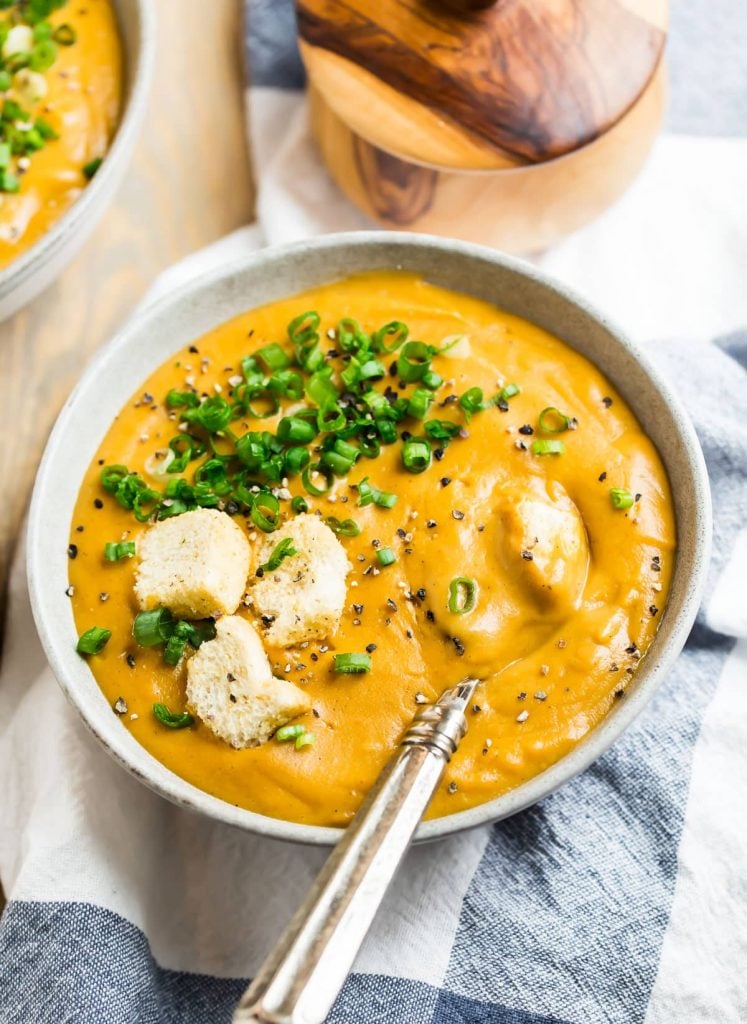 Creamy Vegan Potato Leek Soup From Minimalist Baker
Why We Love It: Potatoes and leeks are a pair as old as time. In my book, it's a combo as classic as PB&J. Leeks' delicate sweetness flavors the potatoes' creamy bite. In this recipe, changing things up and making it vegan is as simple as subbing in coconut milk. It doesn't get much easier than that.
Hero Ingredient: Again: give it up for the leeks.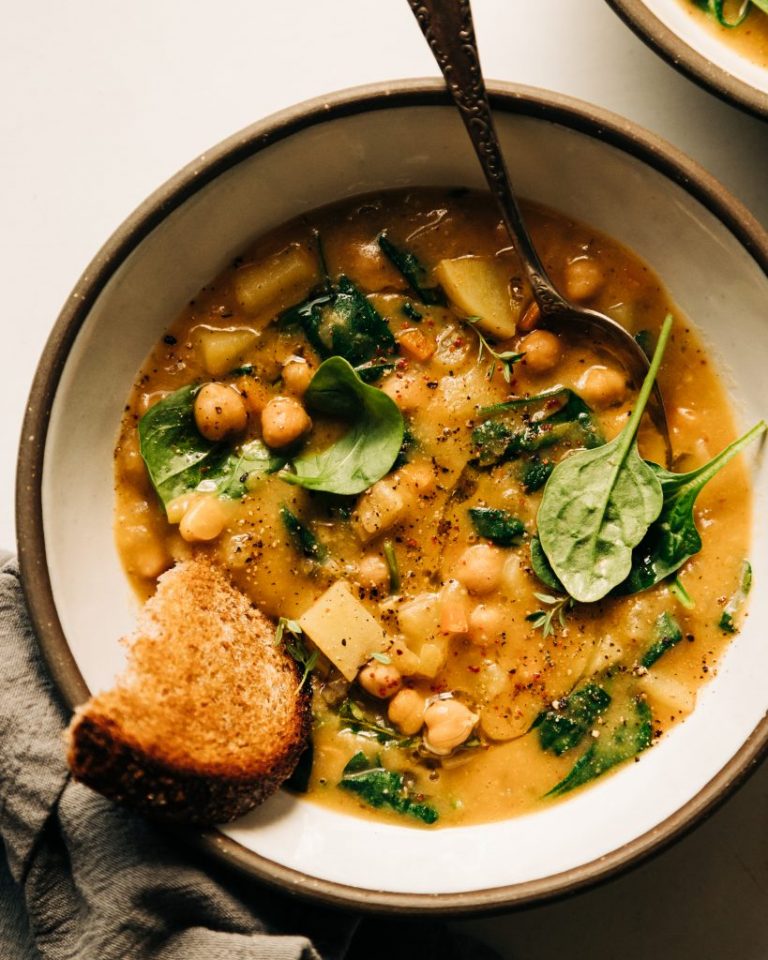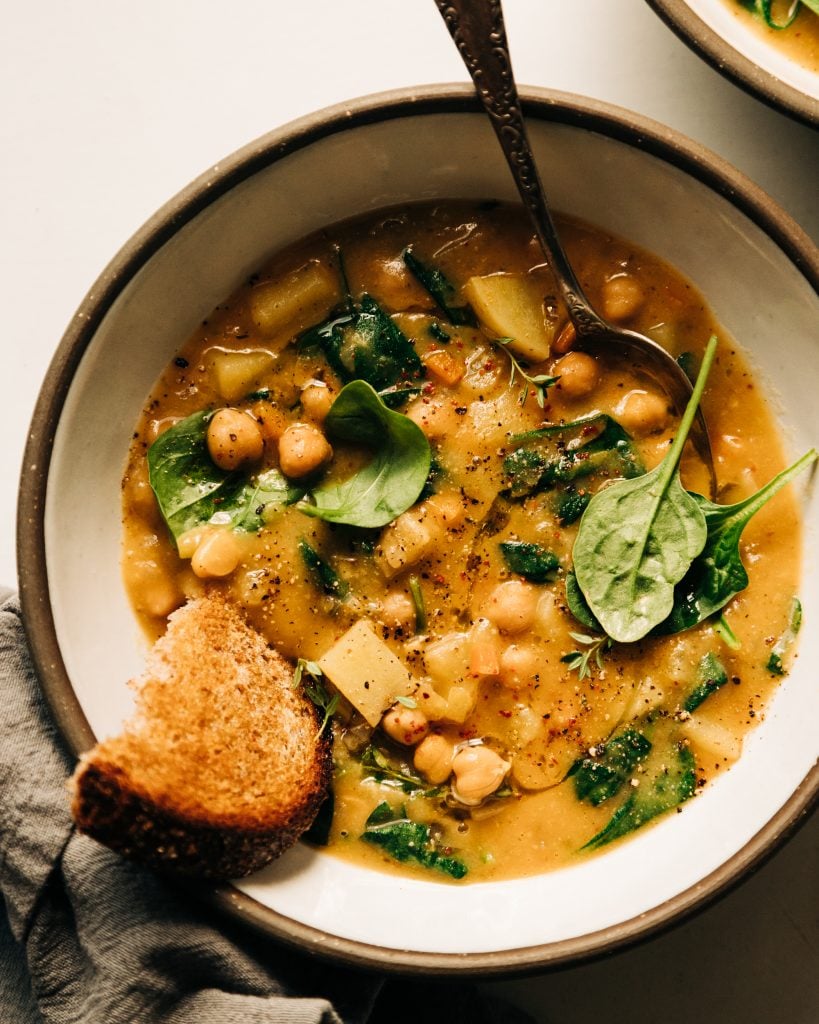 Lemony Chickpea Soup With Spinach & Tomatoes From The First Mess
Why We Love It: A show-stopper of a soup that only calls for 10 ingredients?! Sign me up. Admittedly, I used to think that lemon was an odd flavor to incorporate into soups—it seemed more suited for pasta or my favorite dessert. But, in soups such as this, lemon blends a nice bite into each creamy, satisfying spoonful. It's what dinner dreams are made of.
Hero Ingredient: Baby spinach—because I'll take any shortcut for getting in my greens.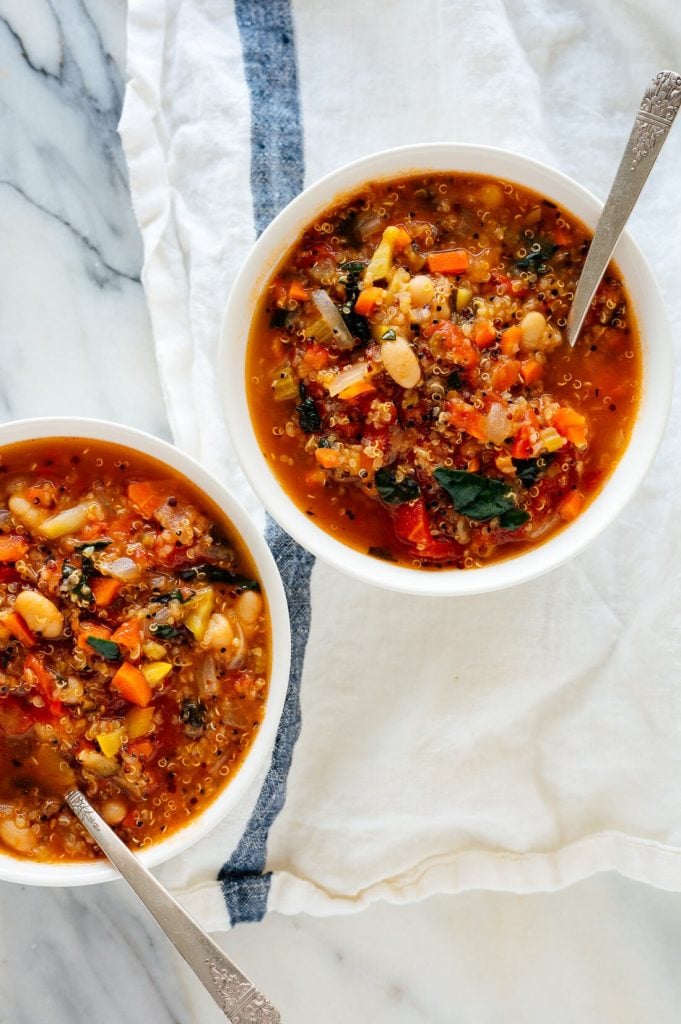 Quinoa Vegetable Soup with Kale From Cookie + Kate
Why We Love It: When quinoa's involved, you know it has to be healthy—and when plenty of additional flavors are thrown in to crowd the pot, you know it has to be good. Quinoa soaks up plenty of the broth, getting nice and fluffy and adding protein plus a hearty texture. If you're tempted to think that soup can't serve as a meal, make this one—it's been known to prove people wrong.
Hero Ingredient: Great northern beans or chickpeas can make this soup extra hearty.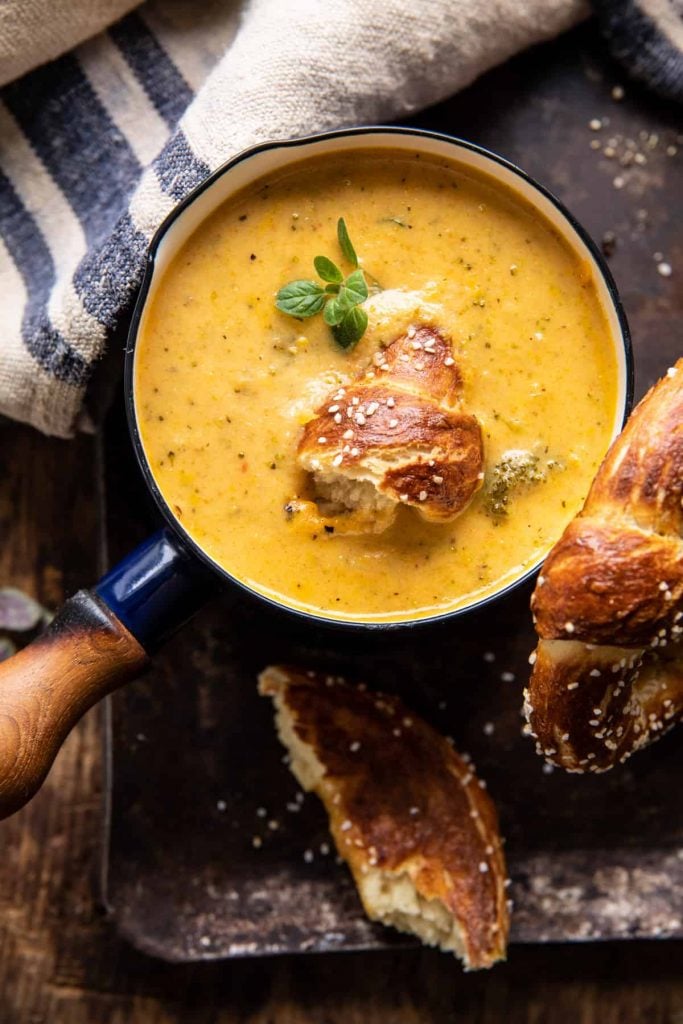 Lighter Creamy Broccoli Cheddar Soup From Half Baked Harvest
Why We Love It: Anything Tieghan of Half Baked Harvest touches turns to gold, and the same goes for her spin on the classic broccoli cheddar soup. Her secret ingredient? This soup isn't just broccoli y'all—there's actually a small head of cauliflower thrown in as well to give it a rich creaminess (plus plenty of fiber). I'm always here for a hybrid.
Hero Ingredient: A half-cup of coconut milk makes this soup all the creamier while still maintaining its plant-based status. (Just opt for plant-based butter and cheddar cheese, which, thankfully, aren't too hard to find.)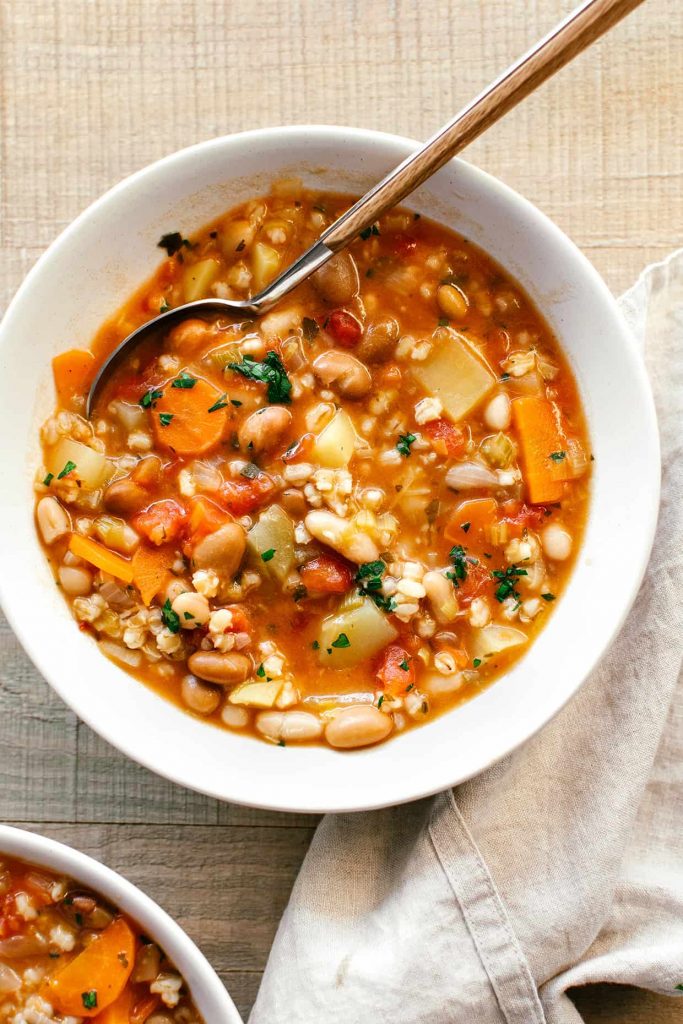 Hearty vegetable barley soup From Sugar Salted
Why We Love It: I love my vegetable soups THICK—and this one delivers. After all, when the majority of your evening meal is veggies, you want it to keep you full, right? Alongside an array of veggies are pearl barley and cannellini beans, the perfect delicious solutions for a well-rounded meal.
Hero Ingredient: One bite of soft, creamy potatoes and I'm sold.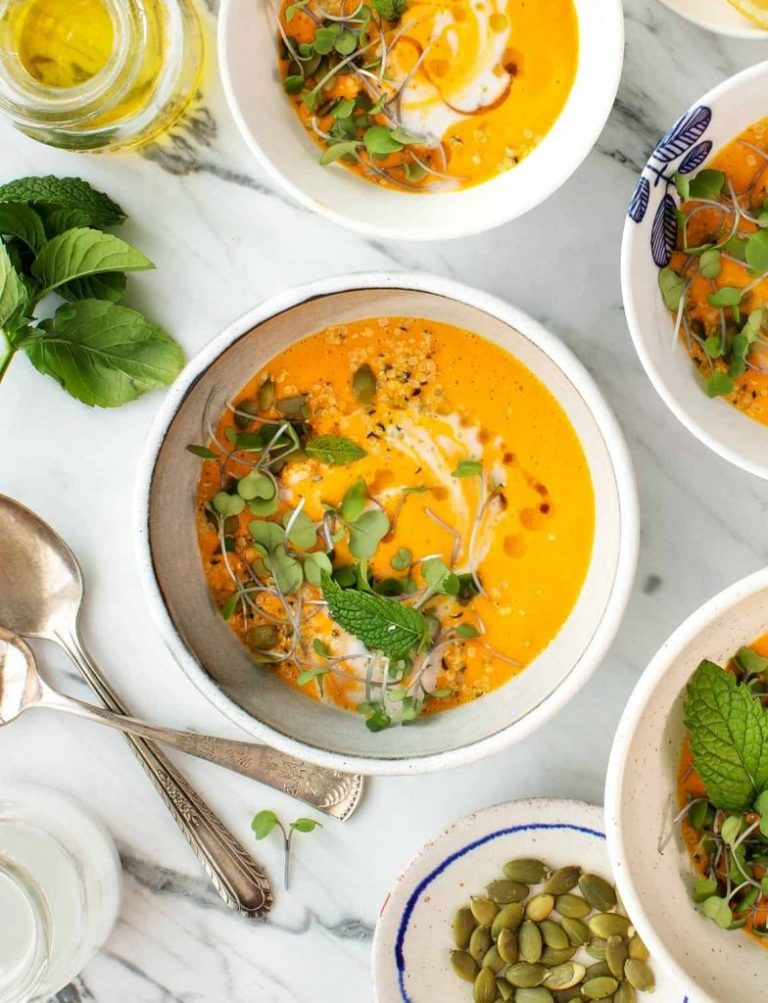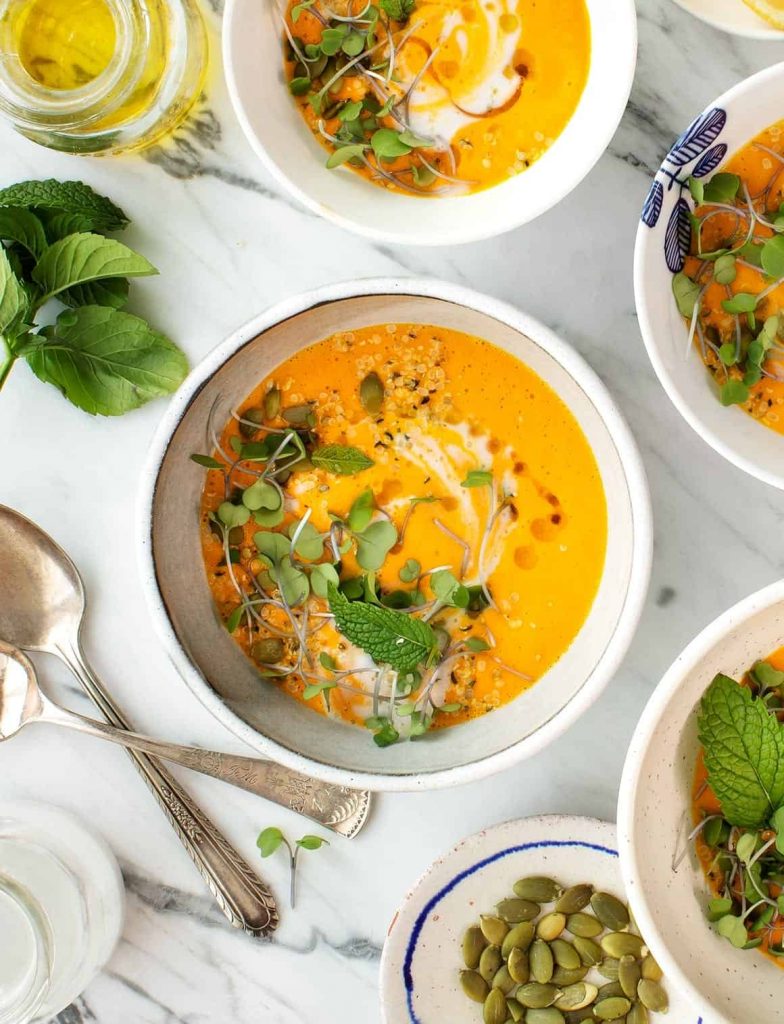 Carrot Coconut Soup From Love & Lemons
Why We Love It: Carrot soups never cease to amaze me with their bright, sunshine-like hue. How can a bowl of this soup not make you happy? Devour first with your eyes, then proceed to clean your bowl. Don't worry—this recipe makes enough for seconds. The other beautiful thing about this soup? It can be served either hot or cold, making it the perfect summer-to-fall soup that your dinner rotation needs.
Hero Ingredient: I'm tempted to say carrots, of course, but in the spirit of surprise, I'm going to go rogue—a garnish of pepitas gives this soup an addicting crunch.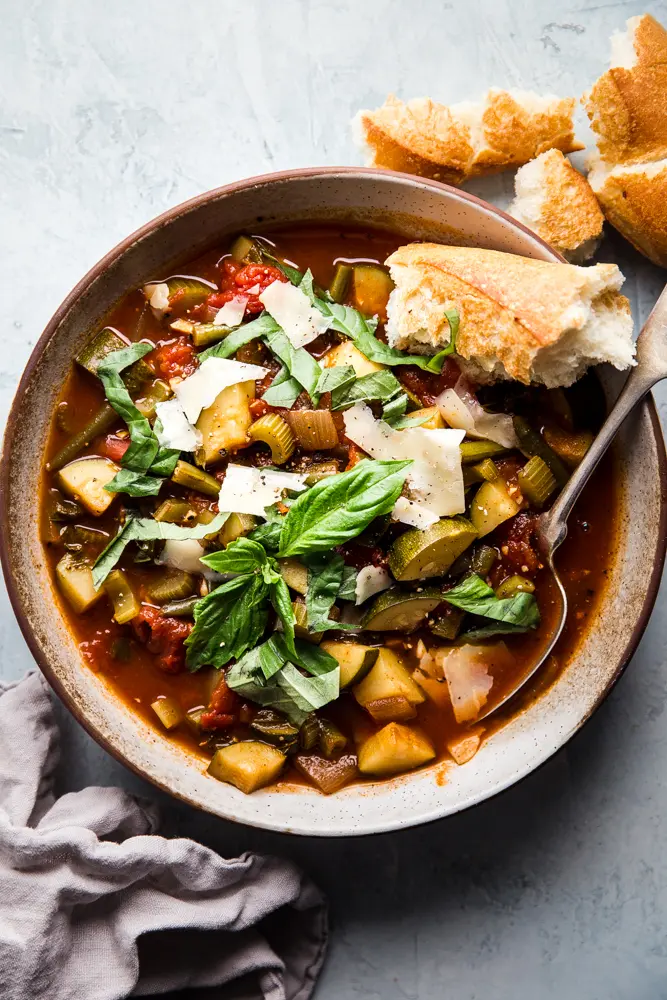 Vegetable Soup From The Modern Proper
Why We Love It: If it's filled with vegetables, it has to be good for you, right? While that's often true, "delicious" isn't usually a thought that follows—but believe me, this soup covers both (all) bases. In addition to being gluten-free, dairy-free, and low-carb, it boasts herbs, spices, and, yes, an abundance of veggies, making it soothing and homey. Everyone will be up for a bowlful.
Hero Ingredient: Canned tomatoes deliver all the umami, and when you're craving a lighter dinner, layering on flavor should be a top priority.
This post was originally published on September 14th, 2022, and has since been updated.